PRESS RELEASE
"TwinPlus X" is revealed, Phono Solar invites you to join in the Event of Intersolar in Munich
2022-05-11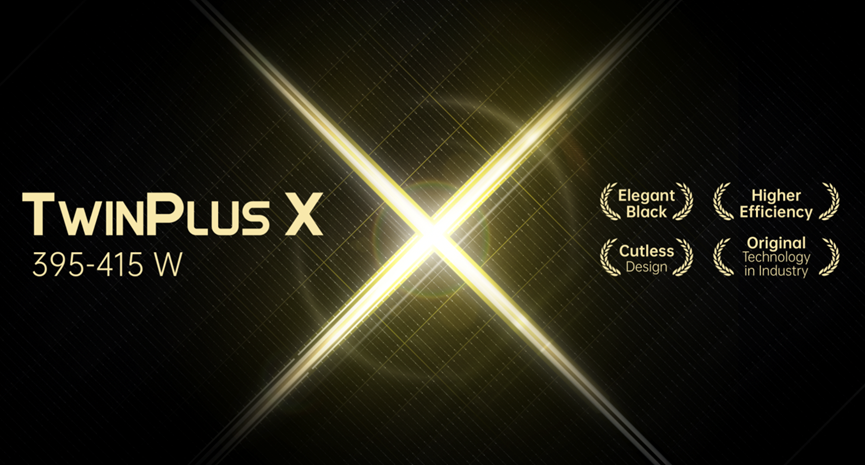 Original Cutless Half-cell Technology In PV Module Industry
Cutless half-cell technology is an original crystal silicon battery manufacturing technology featured with advantages including great size compatibility without mechanical damage, higher efficiency and less pollution and so on. The risk of microcracks in modules is reduced by the absence of laser splitting cell process, greatly improving the quality and reliability of products and prolonging the power cycle.
Elegant Black Appearance
The new TwinPlus X series delivers an authentically elegant black look with its square mono wafer and cutless half-cell technology. In addition, under the consistent strict quality control system of Phono Solar, it is to a large extent to avoid the small color difference of each product, to ensure that the appearance of the module color is highly consistent, and truly realize the aesthetic value of the all-black module.
Outstanding Product Performance
The TwinPlus X series modules have a maximum power at 555W, and its square mono wafer provides higher module power and performance than conventional pseudo-square mono wafer modules in the industry. Moreover, the unique process of the cell casts excellent anti-PID performance, enabling the modules to have higher reliability.
For more information about TwinPlus X, welcome to Phono Solar booth : 【A2.140】 let's explore infinite possibilities together!
-----------------------------------------------------------------------------------------------------------------------------
Phono Solar, a global leading manufacturer of high-performance photovoltaic products, is affiliated to SUMEC Group, a subsidiary of China National Machinery Industry Corporation Ltd (Sinomach), a member of Fortune 500. Phono Solar has been adhering to the brand concept of stability, reliability and sustainability for many years, insists on scientific and technological innovations, and continues to strengthen research and development efforts. Phono Solar has been rated as a Tier 1 PV module manufacturer by BNEF since 2014 and won awards including PVEL Top Performer, Top Brand PV by EUPD Research, Australian CER (clean energy reviews), and SolarQuotes 'Best Solar Panels', etc.

Previous
Next