PRESS RELEASE
Phono Solar Make the Debut at the Future Energy Show Philippines 2022
2022-09-09
  On September 7th,the two-day Future Energy Show Philippines 2022 was held at the SMX Conference Center in Manila, attracts crowed of industry participants. Phono Solar and SUMEC-CEEC have jointly brought high-performance photovoltaic energy storage system solutions to local users in the Philippines, attracting lots of customers to visit and exchange.
  The Future Energy Show is a large-scale and influential solar energy industry event in the Philippines. It attracted practitioners from many countries and regions, providing new business opportunities and value links for the industry. As a world-renowned manufacturer of high-end photovoltaic products, this year is the first time for Phono Solar to participate in this exhibition, which indicates that Phono Solar has laid out the Philippine market and has expanded the Southeast Asian market.
  Phono Solar exhibited 550Wp Bifacial Twinplus Module series and 410Wp Twinplus Module series. The 550Wp Bifacial Twinplus is a high-quality module suitable for ground photovoltaic projects. Compared with traditional bifacial modules, this series not only maintains the extraordinary power generation performance of Phono Solar products, but also its innovative frame design effectively improves the compatibility of the system and bracket, making transportation and installation more convenient.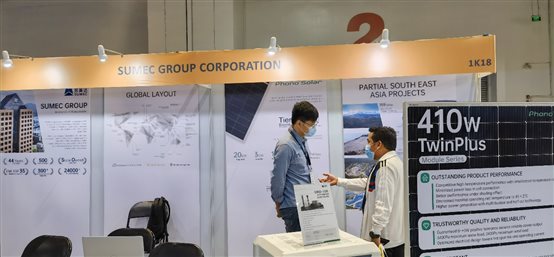 The 410Wp Twinplus series Module meets the current market demand of the Philippines and is suitable for roof distributed generation system. This series not only has an attractive appearance, but also adopts the standard 182mm cell size, which has excellent power generation performance, higher efficiency and wider use scenarios, making distributed users more flexible and controllable in the process of layout, installation and transportation.
  Phono Solar and SUMEC CEEC jointly participated in the exhibition, and launched photovoltaic energy storage system solutions for the first time, which won unanimous praise from local customers.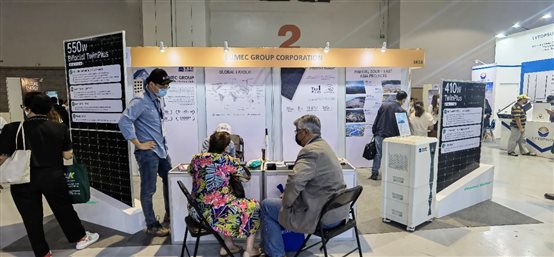 As one of the most potential energy markets in Southeast Asia, the Philippine energy plan states that the renewable energy target of 15GW will be achieved by 2030; An additional capacity of 20GW is required by 2040. At present, rooftop solar in the Philippines develops rapidly, because it's widely regarded as a feasible solution for the government, C&I and household. In the next five years, Southeast Asia is expected to have a potential of 27GW of photovoltaic installed capacity, which also makes it one of the worthiest hot markets for investment.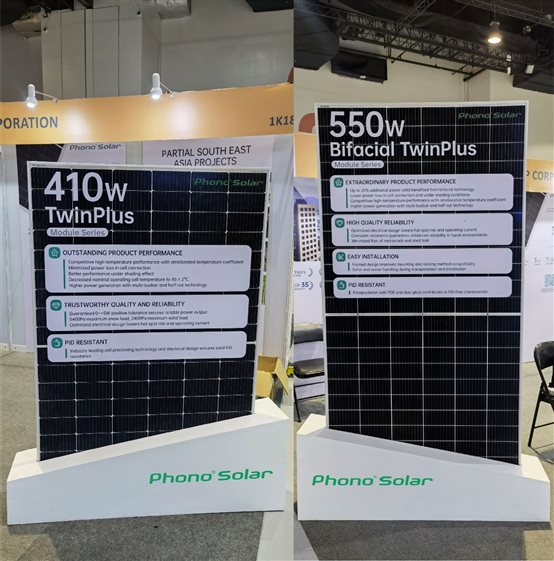 For a long time, Phono Solar has been adhering to the brand concept of stability, reliability and sustainability. With excellent product quality and professional and differentiated high-quality services, Phono Solar has accumulated a good reputation and a wide range of customer groups in the global market. With the continuous growth of the global PV market, the industry competition is also gradually intensifying. On the premise of ensuring the power generation efficiency, Phono Solar has adopted higher standard product design, adhered to stricter material selection and reliability testing, in order to create product features of practicality and aesthetics. These are the preparation of Phono Solar for further development in the global market.
  Phono Solar has been listed as a Tier 1 PV module manufacturer by BNEF since 2014 and has won several awards including PVEL Top Performer, Top Brand PV by EUPD Research, Australian CER (clean energy reviews), and SolarQuotes 'Best Solar Panels', etc. Being a competitive global partner of the field, we put our efforts into creating economic, social and ecological values for our investors and clients. In the future, we will continue to adhere to scientific and technological innovation, increase research and development, and continue to gain recognition in professional fields. Phono Solar looks forward to working with you to achieve 'carbon peaking and carbon neutrality goals", and help build a clean, low-carbon, safe and efficient future with the power of clean energy!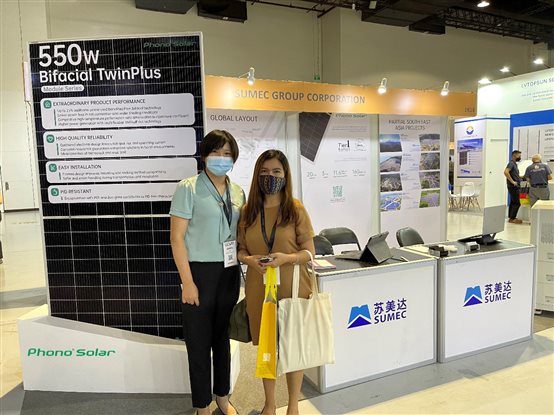 Previous
Next