PRESS RELEASE
Nine Consecutive Years! Phono Solar Was Re-Elected on the Tier1 List of Bloomberg NEF by Virtue Of I
2022-11-24
Recently, with the reliability of product performances, the stability of financial situation and excellent brand reputation, Phono Solar was once again awarded as Tier 1 List of Photovoltaic Module Suppliers by Bloomberg New Energy Finance (BNEF), a world-wide famous research organization. Phono Solar has been on the list for nine consecutive years.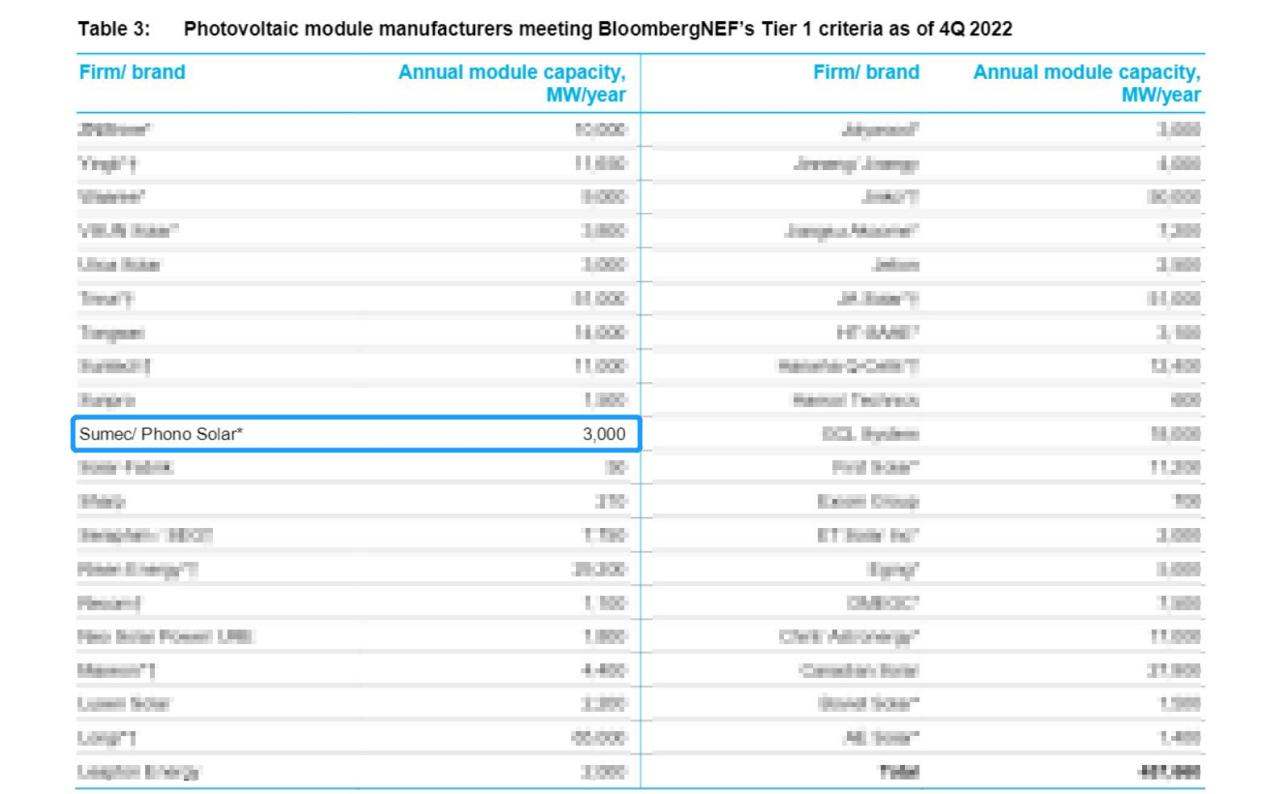 BNEF Tier 1 List is a global market photovoltaic module supplier rating system based on the comprehensive performances of major solar photovoltaic module manufacturers by Bloomberg New Energy Finance. It aims to make transparent distinctions among hundreds of PV module enterprises worldwide. Bloomberg New Energy Finance (BNEF) is one of the most credible third-party research institutions in the global new energy market. Because of its rigorous selection mechanism, Tier 1 List has long been regarded as a most reliable reference data for the competitiveness analysis of photovoltaic enterprises, and has been widely recognized by international financial institutions as an important basis for conducting credit operations.
As a world's leading photovoltaic module manufacturer, Phono Solar has been ranked as the Tier 1 List for nine consecutive years since 2014, which means that Phono Solar's credibility strength in the global financial realm and also represents its recognition in the global market. Besides, Phono Solar has also won multiple international honors including PVEL Top Performer. For decades of years, Phono Solar has been committed to providing customers with high-efficiency and high-quality differential photovoltaic products, which is widely favored by the global mainstream market. So far, Phono Solar has provided photovoltaic module products and services to the customers in more than 70 countries and regions around the world. Its business spreads all around the mainstream solar markets in Germany, USA, Japan, Brazil, Chile, Czech Republic,India and etc..
As one of the leading module brands with financing value in the industry, Phono Solar will insist on scientific and technological innovation, strengthen R&D efforts, constantly gain recognition in professional fields,firmly output the brand value "Stability, reliability and sustainability", bring high-quality products and services to more customers and make great contribution to the green and low carbon development of the global economy.

Previous
Next