PRESS RELEASE
Phono Solar Participates in the 11th SEF Central and Eastern Europe Renewable Energy Forum 2019-10-2
2019-10-21
Recently, Phono Solar was invited to participate in the 11th SEF Central and Eastern Europe Renewable Energy Forum held in Kiev, Ukraine, which is currently the largest and most influential renewable energy forum in Central and Eastern Europe.
Michael K. Lee, head of Phono Solar overseas business development department, was invited to share the keynote speech entitled "Key Technologies in the Field of Solar Photovoltaic Modules in 2019" for the audience, and introduced several innovations of Phono Solar in photovoltaic module technology.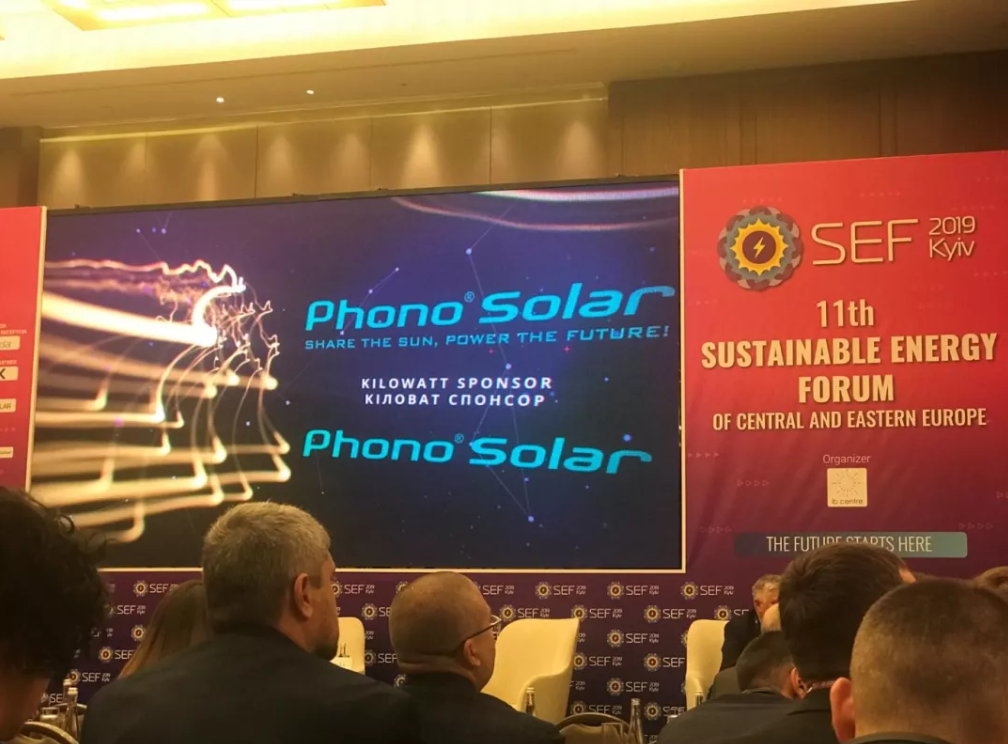 Ukraine is in the eastern part of Europe, on the shores of the Black Sea, which is at a crossroads between the EU and Russia. Although it is a neighbor with Russia, Ukraine's oil and natural gas resources are far less than Russia. Three-quarters of natural gas needs to be imported every year. Mainly from Russia. Nuclear power accounts for a large share of the country's electricity generation, and the world-famous Chernobyl nuclear power plant is in Ukraine. In order to reduce energy dependence on natural gas and nuclear energy, the Ukrainian government decided to overweight the development of renewable energy to improve the energy structure.
According to statistics, since the cancellation of MIP in Europe in 2018, the newly installed capacity of emerging markets such as Ukraine, Poland, Lithuania, Hungary and other countries has increased significantly. In 2019, the new Ukrainian president signed a legislation to promote domestic PV development by adopting special tariffs, attracting many PV companies to look to Ukraine. In Ukraine, there has also been a wave of solar plants installations. According to the National Energy and Public Utilities Regulatory Commission of Ukraine, the installed capacity in the first quarter is about 684MW. As Ukraine's policy and approval environment is relatively transparent, which is conducive to new energy development and investment, BNEF predicts that the installed capacity of Ukraine in 2019 will be 2.5-3.5GW. In addition, the Ukrainian government is likely to switch to the PV bidding mechanism from 2020, with an annual scale of about 300MW.
In the face of this promising emerging market, Phono Solar has also stepped up its layout and won the recognition of the market with cutting-edge innovative technology. So far, Phono Solar orders in the Ukrainian market have exceeded 200MW. Phono Solar has always been committed to providing high-efficiency and high-reliability photovoltaic products to customers all over the world. The monocrystalline half-cell and large-wafer half-cell series of products exhibited at this exhibition have won wide attention and recognition from customers. Phono Solar will focus on the "Belt and Road" countries to contribute to the global energy transformation.

Previous
Next