PRESS RELEASE
Phono Solar Signed cooperative agreement with Dupont Photovoltaic Solution
2018-08-30
(August 30, 2018, Nanjing, China) Phono Solar Technology Co., Ltd. and DuPont Photovoltaic Solution jointly signed a cooperation agreement today. Promote new technologies and applications to improve the efficiency and reliability of solar cells and module. The two parties aim to create industry-leading high-quality PV modules through collaborative innovation, and promote the sustainable development and wider application of solar energy sources.
The collaboration involves the development and support of photovoltaic-related technologies, including the supply of key advanced materials DuPontTM Tedlar® PVF film, DuPontTM Solamet® photovoltaic conductive paste and silicone products to improve solar cell efficiency and module reliability. In addition, the two parties will collaborate on technology to extend the life of modules and improve the quality of PV power plants through reliability and durability testing.
DuPont and Phono Solar have cooperated to promote the improvement of the quality and efficiency of solar cells and modules, which reflects the company's long-term strategy and confidence in the photovoltaic industry. As one of the competitive industries in the world, the photovoltaic industry will become the main force of China's energy transformation in the future. Under the current situation, we will continue to improve product quality and truly win market competition by strength, in order to better promote the healthy and sustainable development of the industry.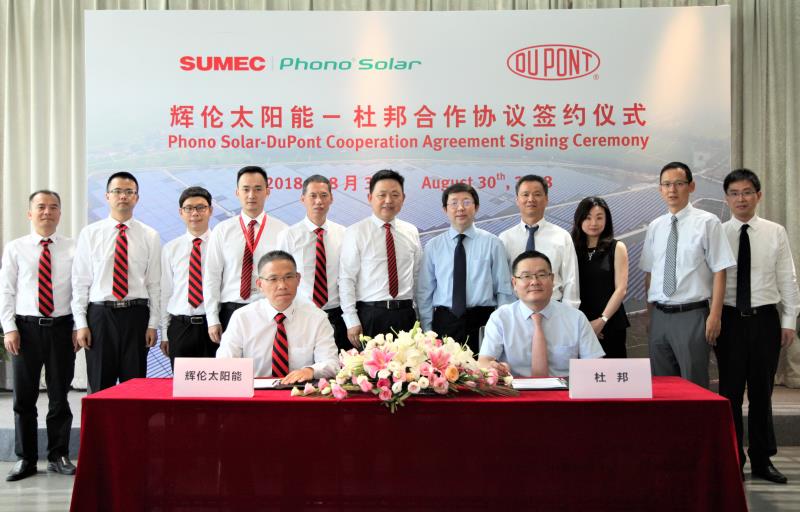 "DuPont has promoted the advancement of photovoltaic materials science with half a century of research and development innovation to cope with the growing global energy demand. Phono Solar is the world's leading supplier of solar photovoltaic power generation solutions, and has always regarded quality as a top priority. Both parties adhere to the same philosophy in creating superior quality."
Wang Wei, global general manager of DuPont Photovoltaic Solutions, said, "DuPont is very honored to have deep cooperation with Phono Solar and hopes to help us with our professional experience in materials research and development, test methods, cell efficiency improvement and module long-term reliability research. Phono solar further optimizes the conversion efficiency and durability of the modules, helping the power plant to maximize revenue over the 25-year operating cycle and jointly promote the sustainable long-term development of the photovoltaic industry."
Cai Jibo, General manager of Jiangsu SUMEC Group Co., Ltd. said, "Phono Solar has been committed to innovative R&D and technology accumulation to create world-class solar module products with the spirit of artisans. Photovoltaic materials are the key to producing high quality PV modules. DuPont has always focused on scientific innovation. Innovatively injecting new vitality into the industry with the world's leading photovoltaic materials. This cooperation will provide Phono Solar's high-quality materials to further enhance the efficiency and reliability of modules and ensure the leading quality of our products in the industry."

Previous
Next