PRESS RELEASE
Phono Solar once again awarded"High-tech Enterprise"title by the Ministry of Science and Technology
2018-12-18
Recently, the Torch Center of the Ministry of Science and Technology released the "Third Batch of High-tech Enterprises in Jiangsu Province in 2018", and Phono Solar was recognized as a "high-tech enterprise." It has been awarded the title of "High-tech Enterprise" for many years. This year, it has once again won this honorary title, which on the one hand fully reflects the strong R&D and innovation capabilities of Phono Solar; on the other hand, it has consolidated the stable and reliable brand image of Phono Solar.
"High-tech enterprise" refers to the scientific and technological achievements that enterprises have developed in new fields through scientific and technological inventions, or have innovative significance in the original fields. In China, only high-growth enterprises with strong sense of innovation, high market development ability and management level as well as receiving national key support can obtain this title.
Phono Solar actively promotes the innovation and development of photovoltaic technology, focusing on the direction of creating "minimum electricity cost solution capability", focusing on cell, module technology, system integration, energy storage, promoting research and development and transformation of results, and is committed to solving the development of new energy industry which involves key technical issues of energy supply, energy management and energy efficiency, and develops high-tech products with independent intellectual property rights, and gradually gains a leading position in China.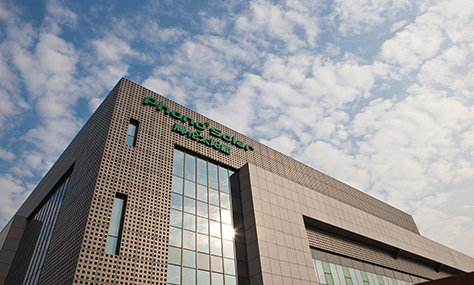 Phono Solar focuses on the black silicon cell research and development, and it first reached mass production in the photovoltaic industry, which greatly improves the efficiency of the cell and improves the overall technical level of the industry. The average efficiency of mass production reached 19.30%, and the highest efficiency of a single batch reached 19.60%. Compared to conventional modules, black silicon technology can absorb light from a wider spectrum, which makes the Phono Solar module has a better performance in "specific power" (kWh/kW) of conventional modules based on the same cost. The product has obtained 3A+ certification in the "Top Runner" advanced technology product certification promoted by the National Energy Administration, and has become the second unit in China to obtain certificates in the same professional field.
Phono Solar will continue to adhere to the concept of "Reform for Energy, Build to Last "and improve the investment in science and technology, cultivate a talent team, continue to create clean energy for the society, and contribute to the green earth with innovation.

Previous
Next