PRESS RELEASE
Phono Solar Signed A 150MW Module Supply Agreement with Supply Partners
2018-06-04
Recently, Phono Solar, the world's leading manufacturer of high-performance photovoltaic products, announced that it has signed a three-year module supply contract with Australia's leading module distributor, Supply Partners, with a total order volume of 150MW. In addition to the polycrystalline modules, Phono Solar will supply the latter with a series of innovative and efficient products of black silicon, smart modules, dual glass, half-cell, etc.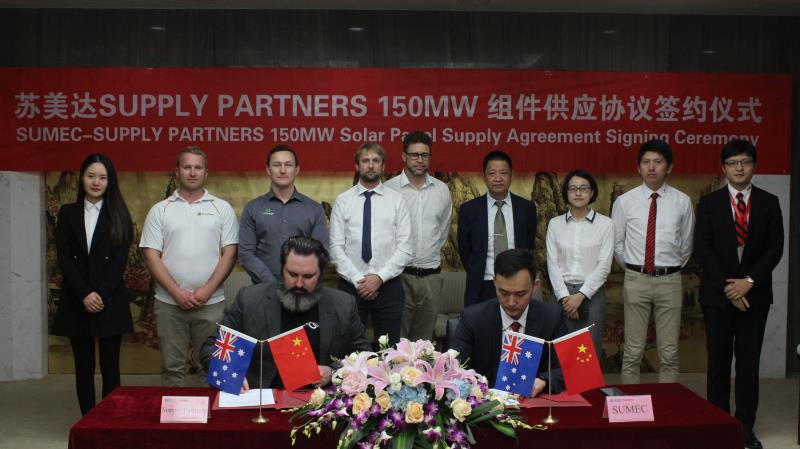 Supply Partners is an important strategic partner of Phono Solar in the Australian market. The signing of the contract means that the two parties will further integrate their respective advantageous resources and carry out in-depth cooperation in module manufacturing and channel development. Aaron Wu, executive deputy general manager of Phono Solar; John Degotardi, Supply Partners General Manager and other corporate leaders attended the signing ceremony.
As a China centralized energy company with over 40 years of brand accumulation, Phono Solar always adheres to high quality standards and strictly controls the production process, aiming to provide high quality photovoltaic products and excellent services for customers at home and abroad. The Phono Solar brand has also become synonymous with high conversion efficiency and high reliability photovoltaic modules, and the products are exported to Germany, Australia, Turkey, Pakistan and other countries and regions around the world. Among them, for the photovoltaic hotspot of Australia, Phono Solar practices a localized marketing strategy and has always maintained close cooperation with Australian module distributor Supply Partners.
Aaron Wu deputy general manager of Phono Solar said: "In the past five years, we have not only witnessed each other's growth, but also witnessed the fruitful results of China-Australia cooperation in the field of photovoltaic area. Through these years' cooperation in manufacturing and distribution channels, Supply Partners has also become Australia's leading module distributor and a top PV supplier approved by European authority EuPD. In the future, we also hope to accelerate the expansion in the Australian PV market through Supply Partners channel layout and expand the influence of Phono Solar, a Chinese module manufacturing brand, in overseas markets."
For Supply Partners, cooperating with Phono Solar, the industry's leading module supplier, is also strategically important to compete with Australian distributors for better market share. In recent years, benefiting from the reform of the Australian electricity market and the high cost of traditional thermal power, photovoltaic power generation, especially the roof distributed project, has shown a rapid development trend, and the competition pattern of local enterprises has also intensified. According to statistics from Australia's research agency SunWiz, in the first quarter of 2018, Australia's rooftop PV installed 351MW, creating a new record of installation in the first quarter within last six years, reaching 56% of annual PV installations in 2017.
Confronting the huge business opportunities in the Australian market, Phono Solar will adhere to the localized marketing strategy. In the next stage, the company will continue to consolidate and deepen cooperation with local quality distribution companies in Australia, complement each other in regional awareness and product expertise, and continuously strengthen the influence of China's PV innovation in the Australian market, working together to promote stable and sustainable development in Australia market. In the future, Phono Solar will also adhere to the quality of ingenuity, commit to technological innovation, continuously develop patented technology, build its own brand, and build a "bridge" for communication with customers around the world with high-efficiency module manufacturing technology.

Previous
Next