PRESS RELEASE
SUMEC ENERGY Unveils Its Brand-new High Efficiency Modules at All-Energy Australia
2017-10-13
On October 11-12 (Australia local time), All-Energy Australia, the largest energy show in Australia, was held in Melbourne Convention and Exhibition Center. As a leader and promoter in the clean energy application systems around the globe, SUMEC ENERGY attended the show with Phono Solar, the brand for its PV modules.
By always adhering to the product concept of "In Search of Remarkable," SUMEC ENERGY brought a series of differentiated and high efficiency modules to the Australian market during the show, such as 60 mono-crystalline 25mm narrow-frame dual-glass modules, smart nano-texturing modules and MWT modules under its PV brand, gaining enormous attention from the Australian market.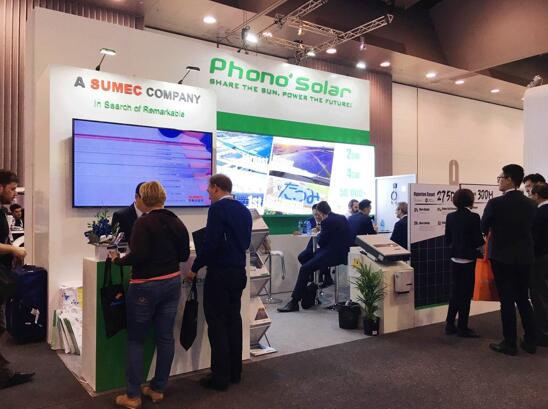 In particular, the smart nano-texturing module, combining the unique nano-texturing technology and the smart chip optimizer Hyperion, became a rising star at All-Energy Australia.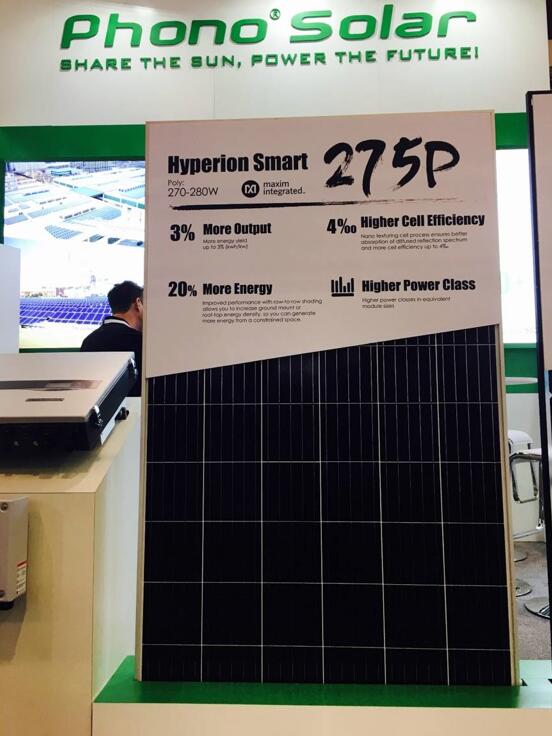 The module is considered as a world leading product in two aspects. On one hand, the module uses the nano-texturing technology which has been independently developed by SUMEC ENERGY, and its "specific power (kWh/kW)" is 3% higher than conventional modules without increasing the cell cost; and on the other hand, the module uses the "refined battery series optimization" technology combined with the smart chip optimizer to ensure maximum power for each cell. The improvement in flexibility removes hotspots for the module, enhances its fire safety and eliminates negative effects caused by attenuation, corrosion, local shadows and inter-row shading. The launch of the module showcased SUMEC ENERGY's innovation capability and the company's latest endeavor to reduce the LCOE of modules.
Phono Solar, the brand for SUMEC ENERGY's PV modules, has been exploring the Australian PV market for many years, where it has long been listed among the best PV brands. In addition to the quality, efficiency and reliability of SUMEC ENERGY's products that deeply impress the customers, the success of SUMEC ENERGY can be attributed to its long-upheld brand marketing concept—openness, cooperation and mutual benefit.
SUMEC ENERGY has always been committed to promoting mutual development with its partners. During the show, a professional sales training conference for commercial solar energy, solely sponsored by SUMEC ENERGY, was held on the Melbourne Cricket Ground.
Dean Mannix, a famous sales training master from SalesITV, Australia, was invited to the training session to elaborate on sales skills, which attracted a large professional audience who wanted to learn and exchange ideas. The VIP hall that can accommodate 300 people was fully occupied.
Mr. Cai Jibo, general manager of SUMEC Group, was invited to the conference and delivered the opening speech. He said, "As one of the world's top 500 companies and a large Chinese central enterprise, after 40 years of steady development with excellent innovation, SUMEC GROUP has infused its sustained pursuit of perfection into the Phono Solar brand, which is carried forward through SUMEC ENERGY in the Australian market. In the next few years, we will not only continue to provide high quality products and services for our customers, but will also help develop ground PV projects in Australia to further demonstrate SUMEC ENERGY's ability as a global, integrated clean energy solution provider, so as to facilitate the development of Australia's new energy market and create greater value for new energy consumers and investors in Australia." (Ma Chaomin, Market Dept.)


Previous
Next