PRESS RELEASE
SUMEC Phono Solar Signs 200MW PV Module Global Supply Agreement with Wattkraft
2017-12-29
SUMEC ENERGY, a global and comprehensive clean energy solution provider, has recently signed a 200MW PV module global supply agreement with Wattkraft at its Nanjing headquarters. This was another major cooperation agreement signed by SUMEC ENERGY with Wattkraft after the two sides concluded a 150MW high-efficiency PV mod-ule supply agreement this May.
Ms. Da Ni, Party Chief of SUMEC ENERGY; Wu Xiawei, General Manager of SUMEC ENERGY Overseas Sales Center; Marco Lamsouguer, Vice President of Wattkraft; Divya Prakash Choraria, Managing Director of Wattkraft Industries Private Limited (Wattkraft's subsidiary in India); Joshi Gajanan, Wattkraft's Head of Market Development, and other guests attended the signing ceremony and visited the headquarters of SUMEC ENERGY.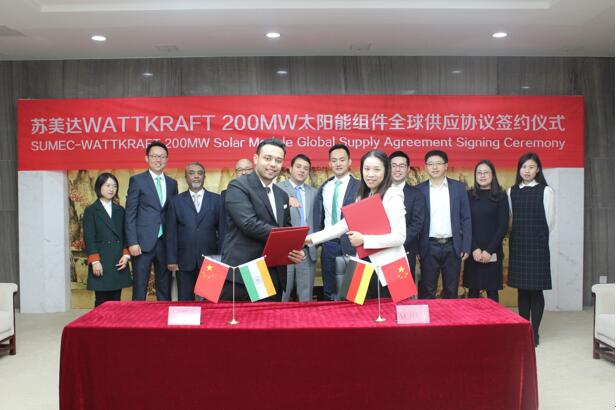 Ms. Da Ni and Mr. Divya Prakash Choraria at the signing ceremony
It is reported a highlight this time is the cooperation between SUMEC and Wattkraft in In-dia. Under the agreement, the two sides will, through Wattkraft's Indian subsidiary, dis-tribute the high-efficiency PV modules of Phono Solar, a module brand under SUMEC ENERGY. The annual distribution amount is conservatively estimated at some 50MW in 2018. This is a major move of extending the cooperation from Europe to the rest of the world after the two sides signed a 150MW module global supply agreement this summer.
After signing the supply agreement, SUMEC ENERGY has established a clear operation model driven by projects and distribution in India. "On the one hand, we will constantly deepen our all-round cooperation with major PV power plant investors and customers in India, and will hopefully supply 200MW modules to India next year; on the other hand, through Wattkraft's channel resources, we will distribute modules in India to attract more potential customers and enhance our brand influence," said Mr. Wu Xiawei.
SUMEC ENERGY has always paid attention to overseas market development and distri-bution. With focus on countries and regions including North America, East Asia, Europe and Oceania, it has been widely recognized by its outstanding products and services. "In the future, we will continue to improve these capabilities, to further develop emerging markets represented by South Asia, the Middle East and Latin America, and work closely with Wattkraft worldwide to create greater value for global customers," Mr. Wu added.

Previous
Next