PRESS RELEASE
SUMEC ENERGY's Pakistan 18MW PV Power Plant Connected to Grid
2017-12-29
Pakistan Harappa 18MW PV Power Plant, contracted and constructed by SUMEC ENER-GY, has been connected to grid. The power plant is Pakistan's first IPP (Independent Pow-er Producer) project using tracker mounting. The grid-connected power generation of the project will not only supply inexhaustible clean electric power to the Pakistani people, but also create a new page for China-Pakistan friendly cooperation in the new energy field.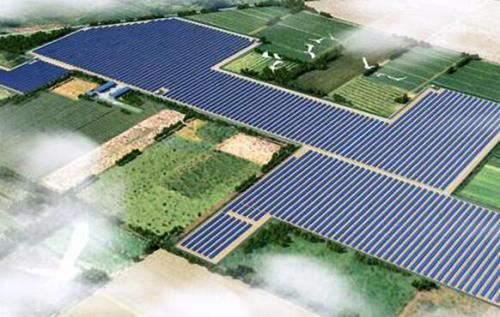 A bird's eye view of Pakistan Harappa 18MW PV Power Plant
Located in Harappa Village, Sahiwal District, Pakistan, the project used some 50,000 high-efficiency polycrystalline PV modules manufactured by Phono Solar (SUMEC EN-ERGY's PV module brand), and used horizontal single-axis PV tracker mounting for the first time in Pakistan. Upon completion, the project will generate nearly 18 million kilowatt-hours of electricity in the first year and up to 400 million kilowatt-hours in the coming 25 years. Compared to thermal power plants with the same generating capacity, Harappa Power Plant can save standard coal consumption by more than 5,904 tons and carbon dioxide emission by nearly 18,000 tons annually, to create substantial economic and eco-logical benefits for Pakistan.
According to statistical data, driven by China's "Belt and Road" initiative and the strategy of "China-Pakistan Economic Corridor", Pakistan has absorbed a cumulative investment of more than 25 billion U.S. dollars from China in the past three years, which is unprecedent-ed in Pakistan's history of more than 70 years. In terms of electric power, Pakistan has been troubled by serious power supply tension. Take the capital Islamabad for example, it suffers a 12-hour blackout every summer day, most of rural and mountainous areas are blacked out for up to 20 hours daily, Pakistan's average daily power deficit is 4 million kilo-watt-hours and soars to 7.5 million kilowatt-hours during summer peak times.
To a country where fossil energy including coal and oil is extremely scarce, addressing en-ergy shortage has become the most preferred and urgent cooperation project for China and Pakistan. PV power generation has become an important means of solving Pakistan's power supply predicament because of its advantages such as cleanness, green and sus-tainability. Some PV projects involving China have gone into operation, and Pakistan's sit-uation of power shortage has been improving gradually, and Harappa 18MW PV Power Plant contracted by SUMEC ENERGY is exactly one of them.
The 19th CPC National Congress wrapped up last month adopted the resolution on the Constitution of the Communist Party of China (Amendment) and wrote "Belt and Road" construction into the constitution. This shows the great attention of the Chinese government to the "Belt and Road" construction and its determination and confidence to advance the international cooperation in "Belt and Road" construction under the leadership of the Communist Party of China. Actually the power plant is not the first clean energy power plant contracted by SUMEC ENERGY in Pakistan. In January 2015, the 1.25MW PV power plant constructed by SUMEC ENERGY in Pakistan, Pakistan's first megawatt-level power plant since its founding, was connected to grid; in October 2017, the Zephyr 50MW wind farm project undertaken by SUMEC ENERGY commenced in Karachi; also in October 2017, SUMEC ENERGY won the general contract for the distributed PV system for 2,700 Pakistani schools by its outstanding brand influence.
"The grid connection of Pakistan Harappa 18MW PV Power Plant means that the PV mod-ules manufactured by Phono Solar under SUMEC ENERGY have been highly recognized by the international community for its ingenious manufacturing processes, outstanding effi-ciency and reliable product quality, proved the strong capacity of SUMEC ENERGY for overseas energy engineering contracting, and laid a solid foundation for the company to continue advancing the "Belt and Road" initiative, boosting the renewable energy coopera-tion between China and the countries along the "Belt and Road", and fulfilling the mission of a central energy enterprise," said Yu Quan, director of Market Dept. of SUMEC ENERGY.

Previous
Next