PRESS RELEASE
This Sakura Blossom Season, Phono Solar Shows a Special Scenery to you at PV EXPO
2023-03-19
During March 15-17, World Smart Energy Week arrived as scheduled. With the new Helios module series, all-black aesthetics Draco module series and cutless Twinplus X module series, Phono made a stunning appearance. Debuted PV and storage integrated system, Phono created green and efficient one-stop energy solutions for the Japanese photovoltaic market.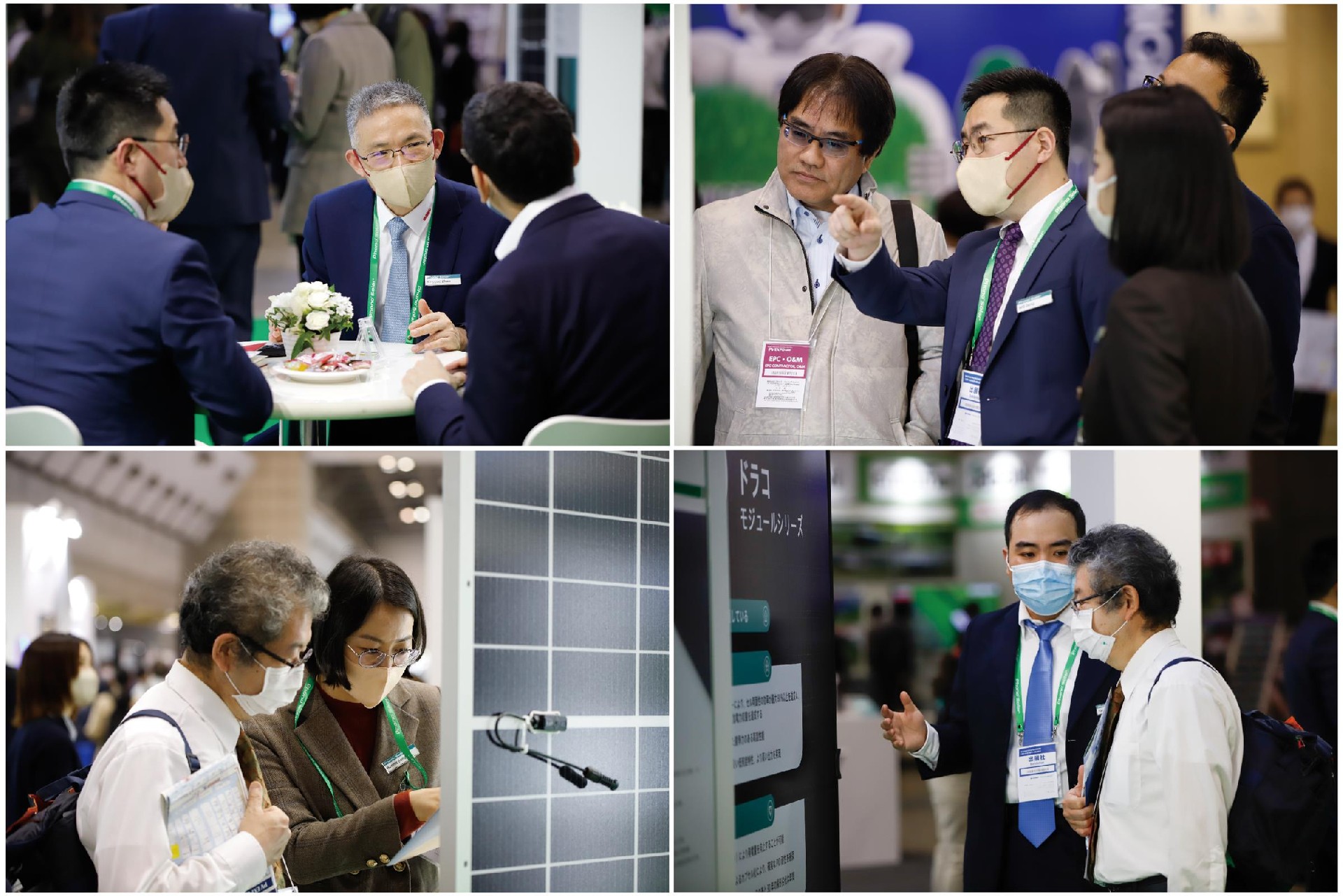 World Smart Energy Week is one of the largest, most professional and influential international renewable energy industry exhibitions in Japan and even in Asia. It gathers a full range of renewable energy technologies and services, covers 8 energy exhibition areas and technology special areas including photovoltaic modules/systems, hydrogen fuel cells, storage batteries, smart grids, wind energy, biomass energy, energy management and other related industry technologies and products.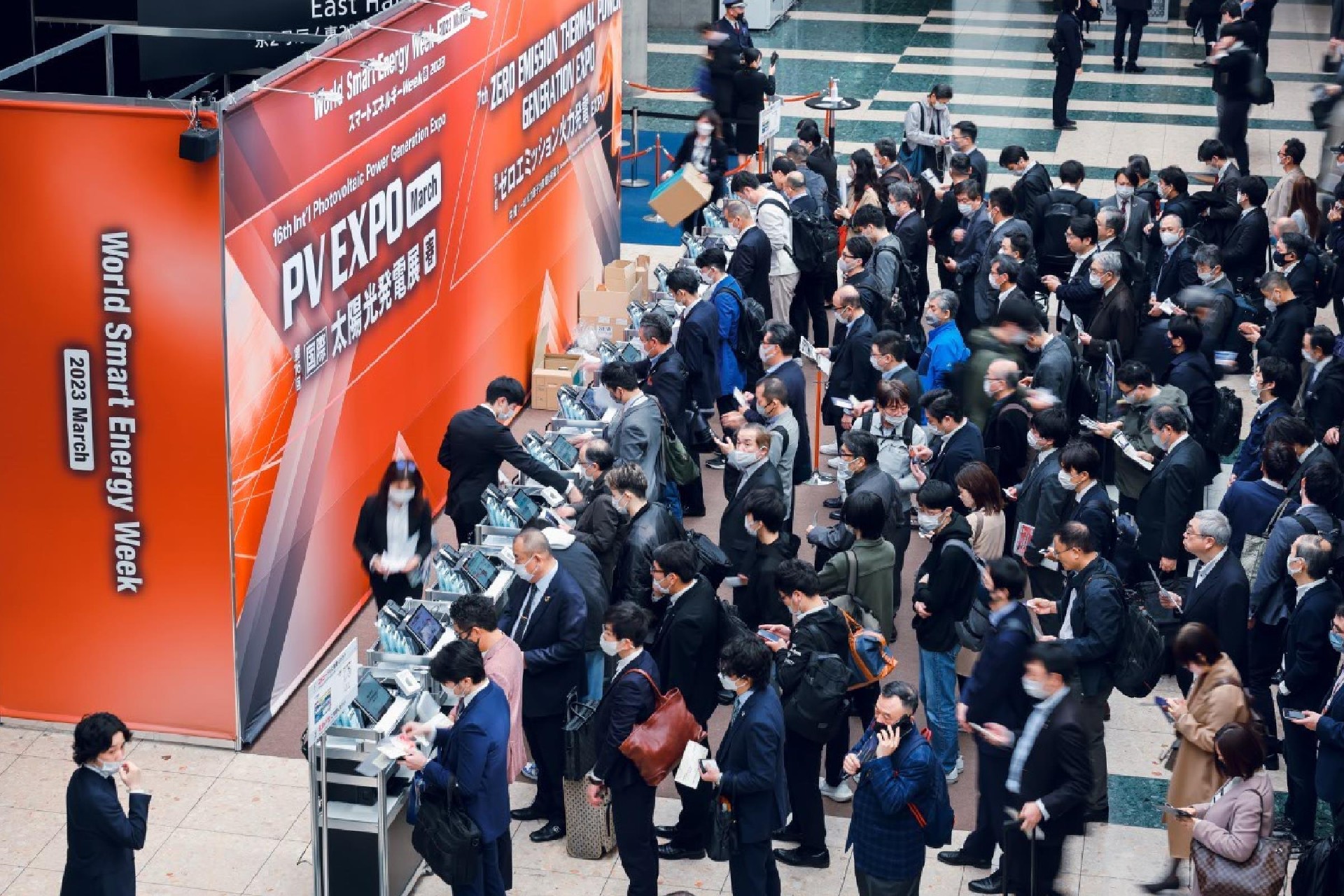 Japan has been the world's main photovoltaic market for many years. According to the latest report of IEA, Japan's cumulative PV installed capacity reached 78.4 GW by the end of 2021. By the end of 2023, it may reach 90 GW. This year, the Japanese government has also frequently issued support policies for photovoltaic projects in special scenarios, such as subsidies for photovoltaic projects in farmland, reservoirs and waste treatment plants, and photovoltaic panels have to be installed in new single-family houses in Tokyo since April 2025. These measures reflect the determination of the Japanese government to achieve the 2030 goal of 104-108GW. To closely meet the needs of the Japanese market, Phono Solar special launched small size N-TOPCon Draco module series, highly efficient HJT Helios module series, all black cutless Twinplus X module series and PV and storage energy integrated system. The new HJT Helios series module, which was first introduced, has received high attention from visitors with its outstanding 700W power generation, zero LID, anti-PID characteristics and lower carbon emissions. The Helios module series is not only environment-friendly products, but also rely on its reliability advantages and shorter payback period, reflecting the original intention of Phono Solar to adhere to the brand concept of scientific and technological innovation, and always committed to creating sustainable economic, social and ecological value for investors and customers.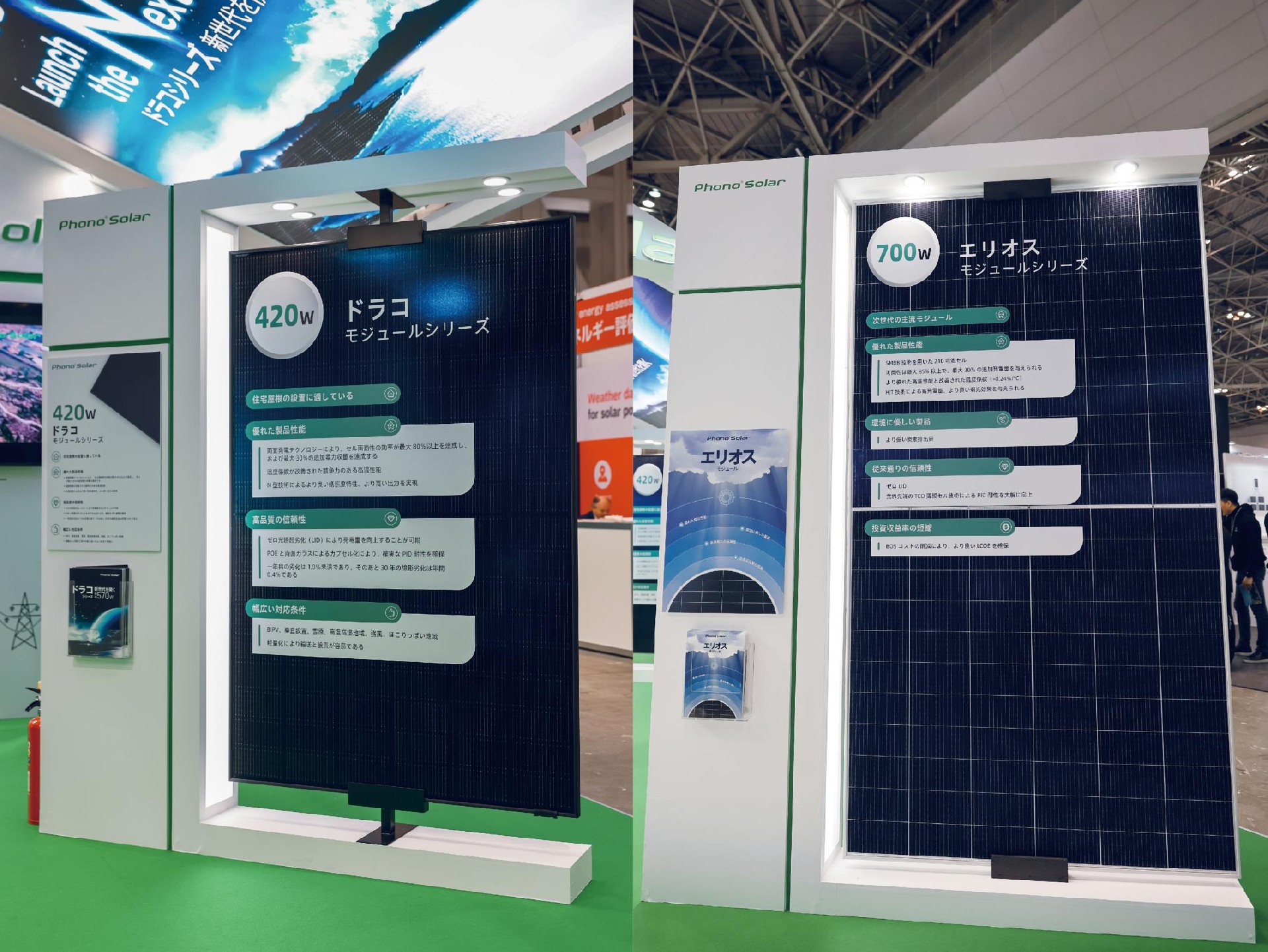 In addition, N-TOPCon Draco module series, the star product of Phono Solar, are also upgraded. The 108 pieces of exquisite panel shape, highly consistent all-black aesthetic appearance and lightweight design are 16% lighter than the conventional dual-glass modules, makes it safer and easier handling during the transportation and installation. which left a deep impression on the visitors.
This year Phono debuted the PV and storage integrated system, which can intelligently and flexibly solve household energy management problems. Through the all-black cutless module Twinplus X series and integrated products, to realize the "self-use" of residential clean energy. Phono Solar keeps following the highest quality standards and the strictest quality control process. Our integrated PV and storage system are also safe and reliable.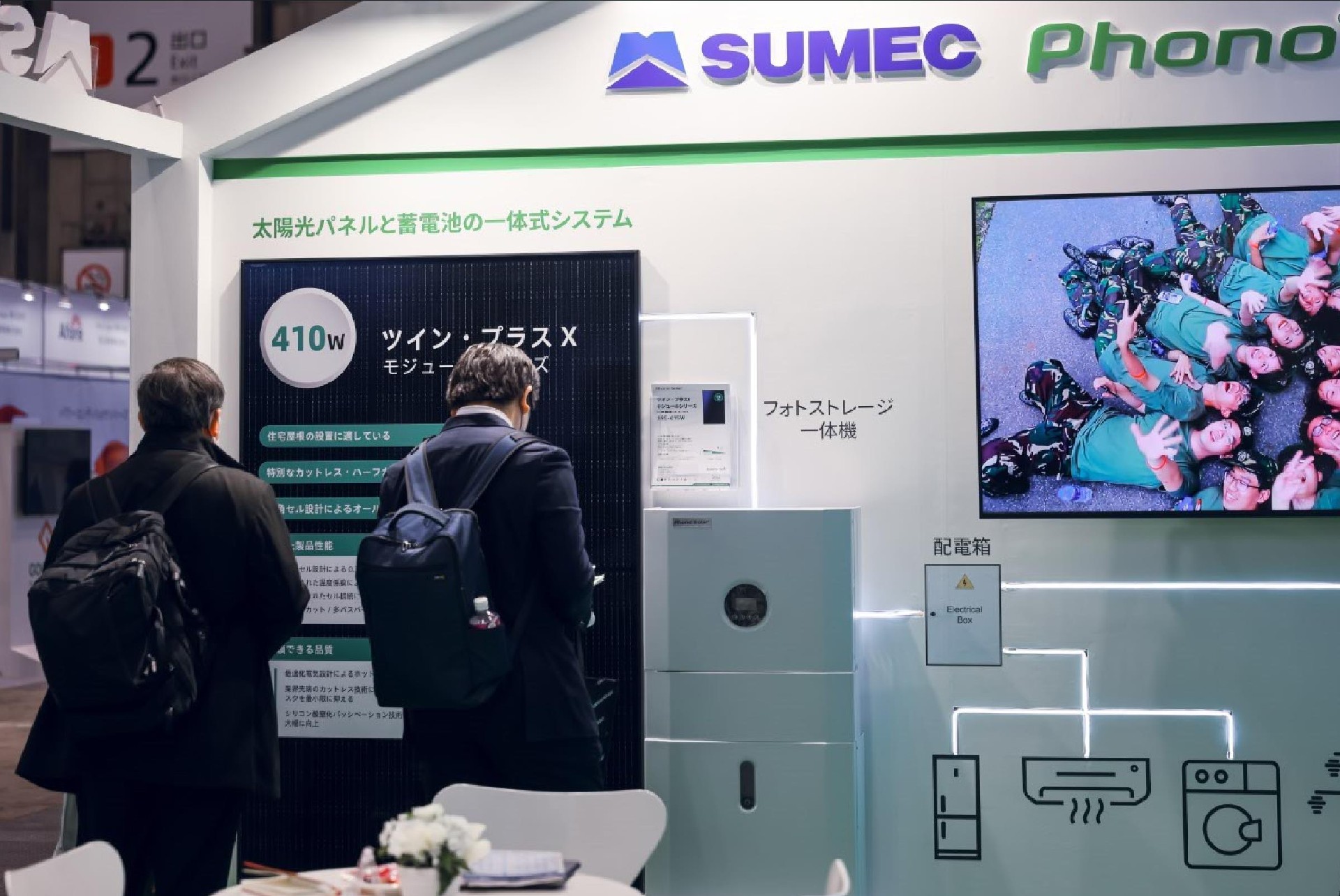 Phono Solar has been providing customers with high-quality and differentiated products and services through continuous product innovation and model innovation, and continuously improving customer value. Phono Solar focuses on the optimal system conversion efficiency, and continuously promotes the development of photovoltaic products and technologies, aiming to bring clean energy assets with the best cost of electricity to global customers.
Adhering to the continuous pursuit of excellent product quality and continuous investment in photovoltaic technology innovation, Phono Solar's photovoltaic product performance has always been in the leading position. Phono Solar has been listed as a Tier 1 PV module manufacturer by BNEF since 2014 and has won several awards including PVEL Top Performer, Top Brand PV by EUPD Research, Australian CER (clean energy reviews), and SolarQuotes 'Best Solar Panels', etc. Recently, with the outstanding product performance and industry reputation, Phono Solar has also been listed as the "Top 10 solar manufacturer in USA", 2023 Australian CER "Most Powerful Solar Panels", "Best Solar Panels" and "Best Value Solar Panels".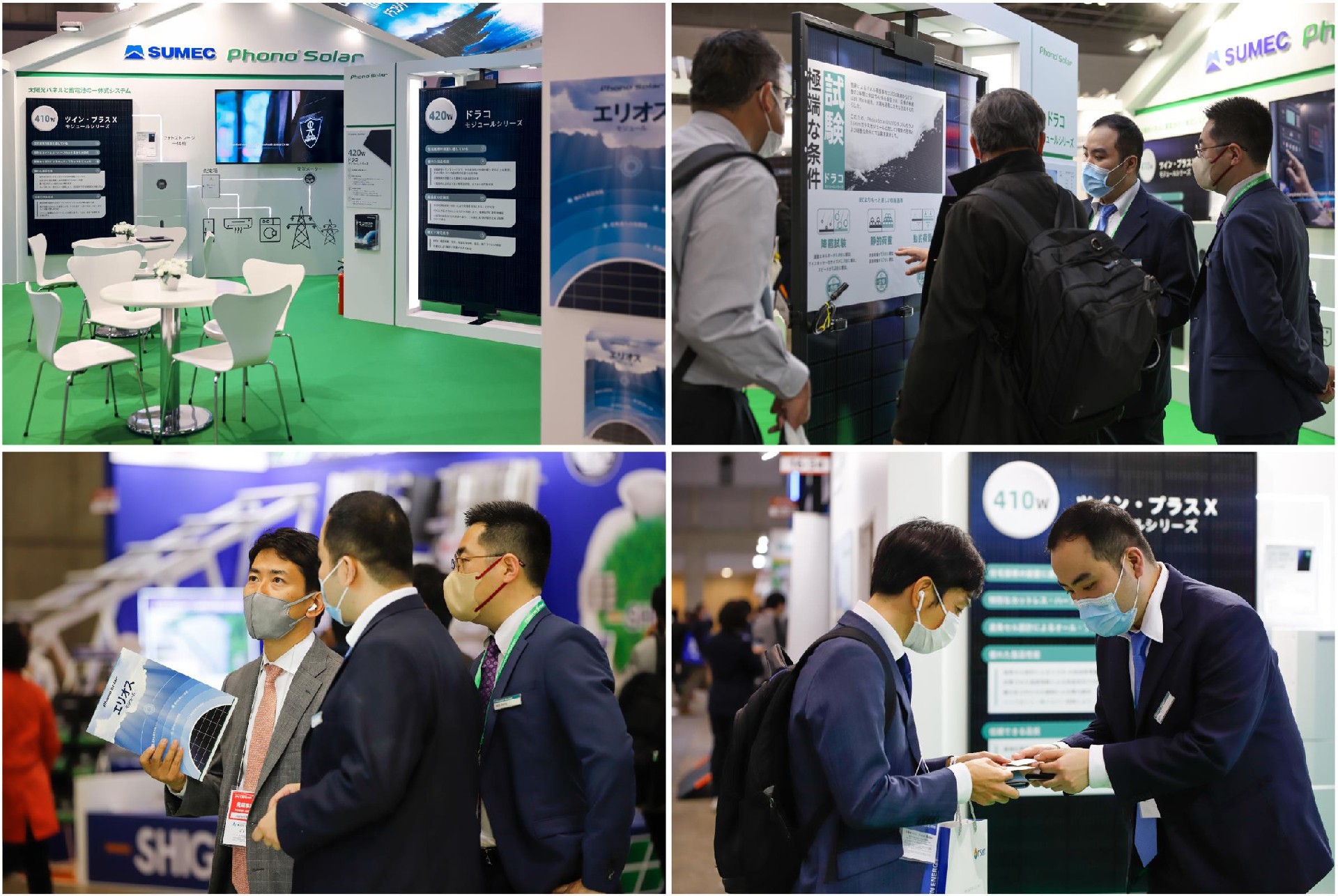 Zhao Xingguo, General Manager of Phono Solar, said that Japan's new energy market has a stable and mature development rate, and has extremely high requirements for technological innovation and product quality. As one of the few central enterprises in the industry, Phono Solar always adheres to the brand concept of "stability, reliability, and sustainability", and adheres to the development path of high-end quality and technological innovation. In recent years, in addition to in-depth research in areas of mainstream concern in the photovoltaic market, we have also focused on micro innovation in technology and products, focused on subtle aspects of quality and service. While effectively controlling costs, we have focused on creating differentiated value-added components for customers. This is the reason why Phono Solar has been trusted for a long time in such a special market as Japan.
At this time of Sakura blossoms, Phono Solar will use stable, reliable, and sustainable brand concepts to create excellent product quality and professional, differentiated high-quality services. We are willing to work with you to expand a green world that is like spring all year round and help achieve the global carbon peaking and carbon neutrality goals with clean energy.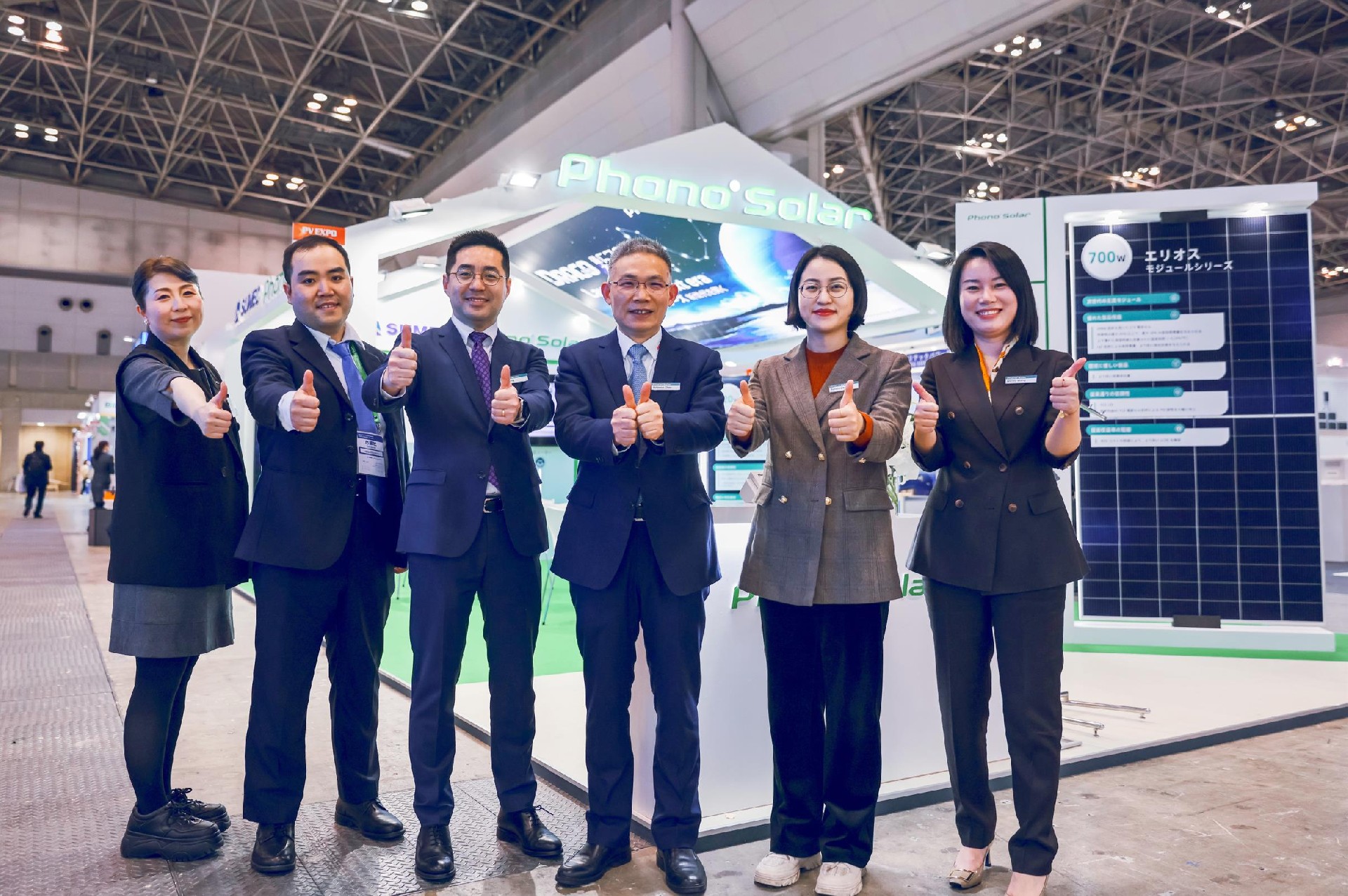 Previous
Next