PRESS RELEASE
Rebranding Phono: Redefining a New Era of Solar PV with Innovation as the Driving Force
2023-06-09
Stepping into Phono's 15th anniversary year, Phono revamped its brand for the first time and announced the new corporate identity. Phono's rebranding campaign includes not only an upgrade of the brand image and core values, but also a series of changes accordingly to better match their moving targets and continuous improvements. It also reflects the expansion of Phono's service areas during the years, transitioning from a solar module manufacturer to a global leading solar products and services provider and creating more diversified economic, social, and environmental values to global investers and clients.
Phono was established in 2008 as a global leading manufacturer of high-performance solar products affiliated to SUMEC Group, a subsidiary of Fortune 500 corporation, China National Machinery Industry Corporation Ltd (Sinomach). Under the "dual wheel drive" of technological innovation and branding strategy, Phono has insisted on scientific and technological innovation and enhanced its R&D efforts constantly. It has accumulated a wide range of customer groups and good reputation among the global market for many years by virtue of differentiated products, premium product quality, and professional team services.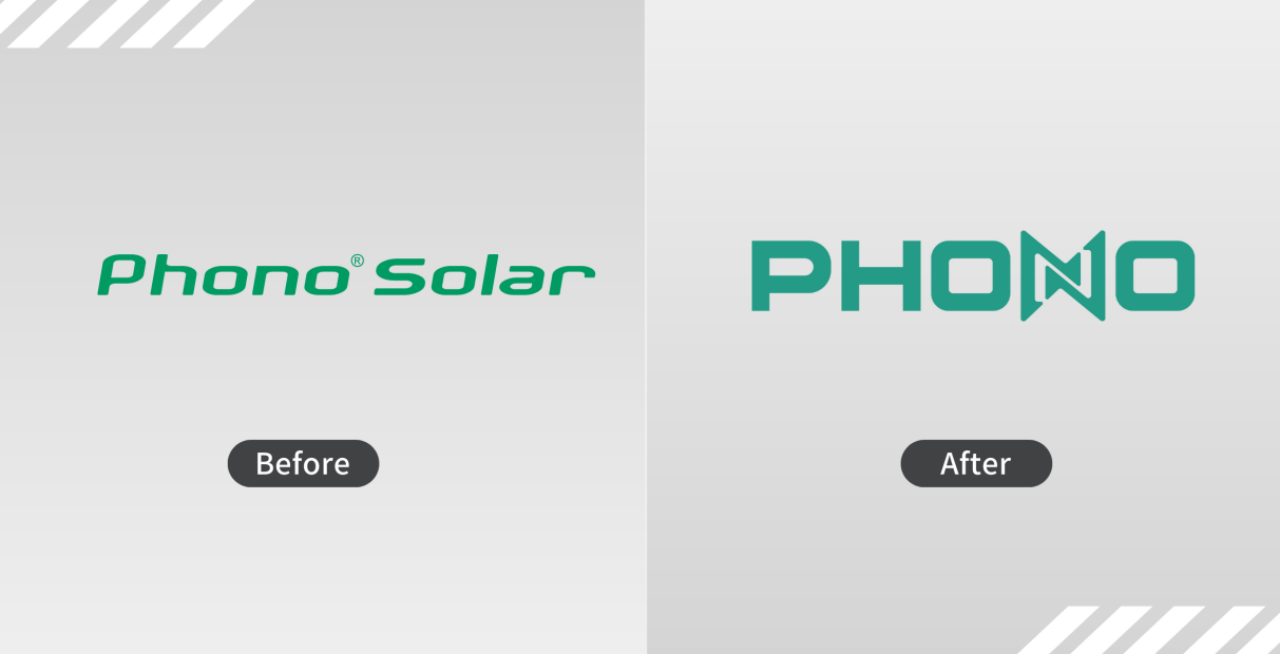 LOGO UPGRADE
Phono's marketing team distilled the essence of their brand values into a fresh new look. The marketing head of Phono says, "We simplified 'Phono Solar' to 'Phono' and adjusted the slanted font to straight position in order to clarify and highlight the core of our new brand identity. We designed an art letter "N" to present a facelift to the brand identity from the original look. There are three interesting interpretations behind it."
"N" stands for "New", indicating Phono's commitment to bring new energy, new technology, new products, and new services with new images in the new era. The futuristic and technological N-shaped appearance is derived from the deformation of the lightning symbol which symbolizes electricity, representing the continuous "power" and "energy". In addition, the shape of "N" can also be interpreted as a distortion of the "infinity sign", symbolizing "renewable", "cycle", and "infinite possibility".
Based on the original classic green color, the new design incorporates a bit of blue tone to produce "Phono Green" as the main color. Green represents vibrance and evergreen while blue tone highlights the brand's innovation and inclusiveness in line with the enterprise image. Under this refreshed logo, they hopes to offer an enhanced impression that Phono is a reliable solar product and service provider with cutting-edge technology, well-rounded services, as well as sustainable management.


CORE VALUES
Over the past 15 years, Phono has adhered to the brand concept of "stability, reliability, and sustainability" and has insisted on scientific and technological innovation to develop differentiated products constantly. This time, accompanying with the logo redesign, Phono also decides to elevate "innovative" as a foremost keyword in their brand core values to highlight their commitment to innovative technology, innovative products, and innovative products.
"As an innovation-driven company oriented on the customer demand, Phono has been continuously pursuing breakthroughs in technology, equipment, process, differentiated products and services to continuously stretch our boundaries and create added values and infinite possibilities," says Xingguo Zhao, President of Phono. "As a subsidiary brand affiliated to a state-owned company, we also highly value sustainability and corporate social responsibility at the heart of our brand value. We have been striving to become an active promoter in the global clean energy transition, to improve ESG management with high-level standards, to provide more affordable clean energy for all, and to contribute to the global shared carbon neutrality goal."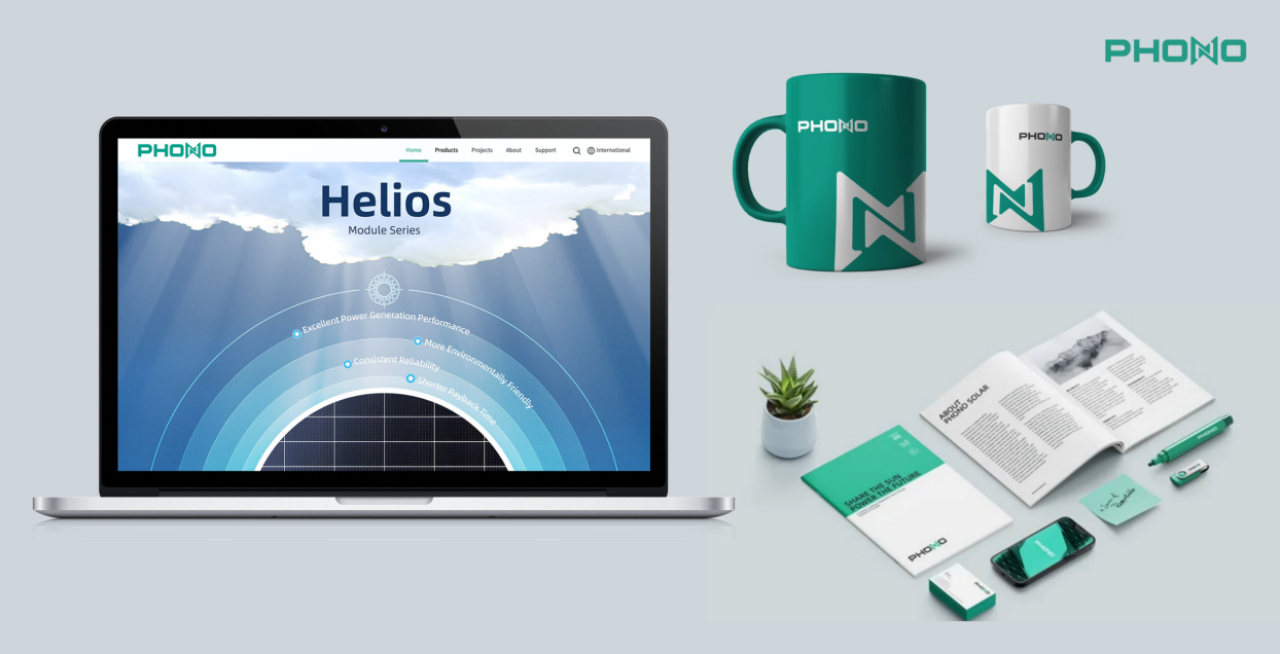 On June 9th, 2023, Phono has officially launched its rebranding through multiple platforms. It is an important milestone in its business development strategy, marking the start of a new era of Phono's upgrade from the inside out. We will also be rolling out a series of special campaigns to celebrate Phono's 15th anniversary in 2023. Phono's President Xingguo Zhao stated, "In the future, Phono will embrace the challenges and opportunities of the future energy revolution with the refreshed brand identity. Share the sun, power the future."

Previous
Next