PRESS RELEASE
PHONO Debut at RE+ with New Products and Localized Renewable Energy Solutions
2023-09-14
September 12-14, 2023, PHONO made a grand appearance at the RE+ Solar Expo in the United States with its innovative photovoltaic products and renewable energy solutions. RE+ is a global energy exhibition evoluted from SPI, ESI, and Smart Energy Week. The RE+ 2023 was held in Las Vegas, bringing together an extensive alliance of clean energy leaders to become the largest gathering of energy profressionals from different segments of the clean energy industry.




Since its establishment in 2008, PHONO has always been committed to contributing to the global clean energy transition through continuous innovation of technology and improvement of product performance. In the American market in particular, PHONO has accumulated a great reputation and a wide customer base since the SUMEC North American branch was founded in 2009. Over the years, PHONO has been expanding its localized presence and footprint on the US map, it laid out the US local module manufacturing bases as well as warehousing and supply chains in California, Texas, Florida, New Jersey, and South Carolina, forming a localized, in-depth, and refined service system across the states. In 2019, it achieved its first single order of over 200 MW in the US. In 2022, it was rated the US Top 10 Solar Panel Brands by SolarReviews. This year, PHONO further expand its deployment of local manufacturing, marking PHONO's development in the US market has reached a new level.

In RE+, PHONO made an impressive appearance with key products covering solar modules, smart energy storage systems, charging equipment, etc., which are widely used in household, commercial, and industrial, as well as centralized power plants and other fields. This is the first time that the N-Type TOPCon modules Draco series, one of PHONO's top-selling star products, made its debut in the U.S. market. The power of Draco series modules can reach up to 630Wp. Its zero LID, Better weak illumination response, and other technical features produce excellent power generation performance and higher reliability, enabling the Draco series to become an option for more applications in fields including BIPV, ground, vertical installation, snowfield, high-humidity areas, etc. PHONO modules have excellent conversion efficiency and durability, covering technical features such as all-black aesthetics and lightweight dual-glass characteristics. These innovative technologies will empower users to improve power generation efficiency and further lower LCOE.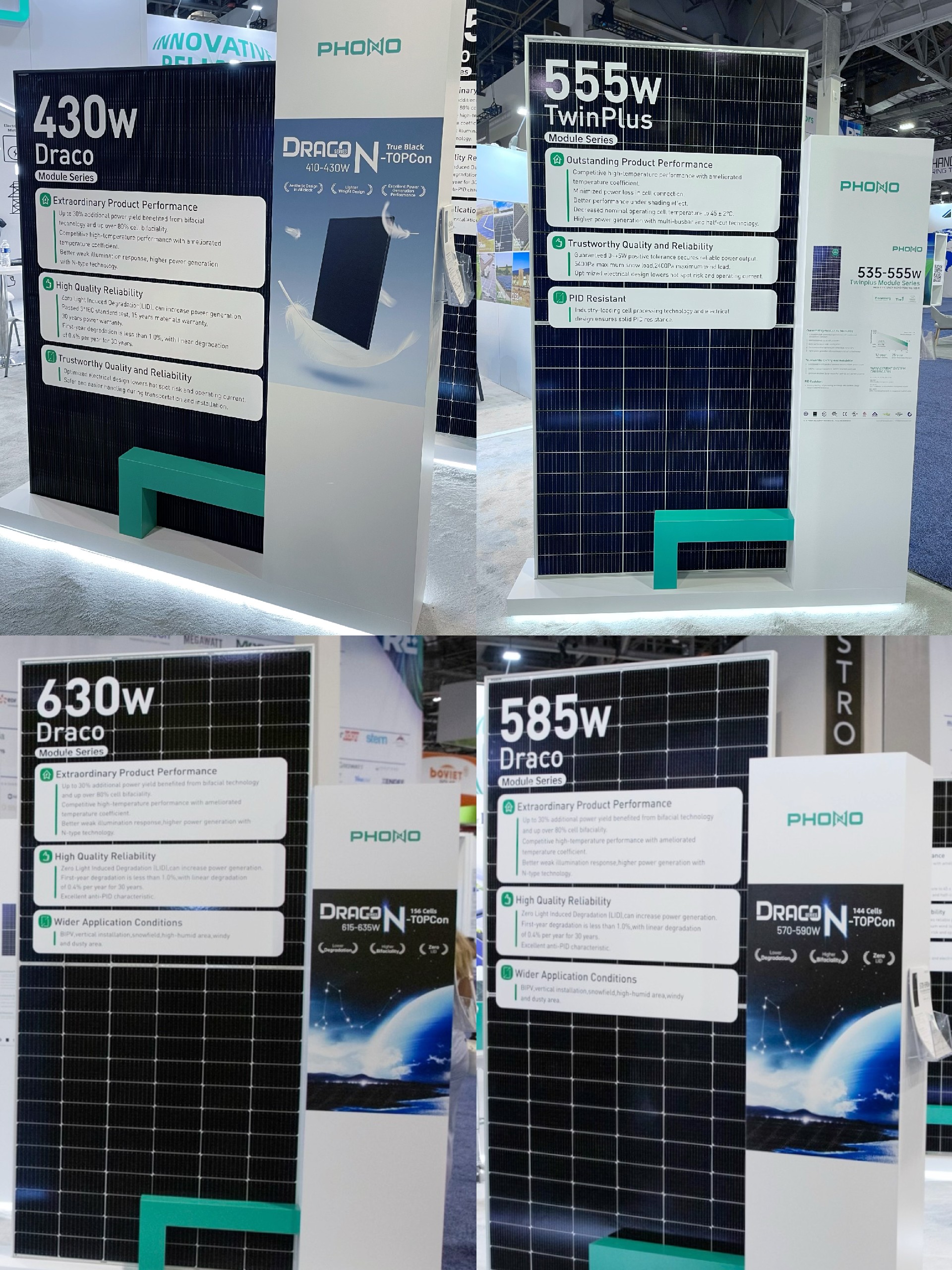 PHONO has launched an integrated household smart energy solution for the US market, known as PHONO Power, including the PHONO Power smart battery storage system and smart energy management system. The System covers a series of products integrating the optimizer, inverter, energy storage, charging pile and junction box, to create a safe, stable, smart and efficient household smart energy management system. It offers end users the most flexible and convenient solution for their pain points of home energy management. The 420Wp full-black TwinPlus series modules allow household to realize independent power generation for in-house purpose of in-house power system, significantly improves the enegry controllability and sustainability.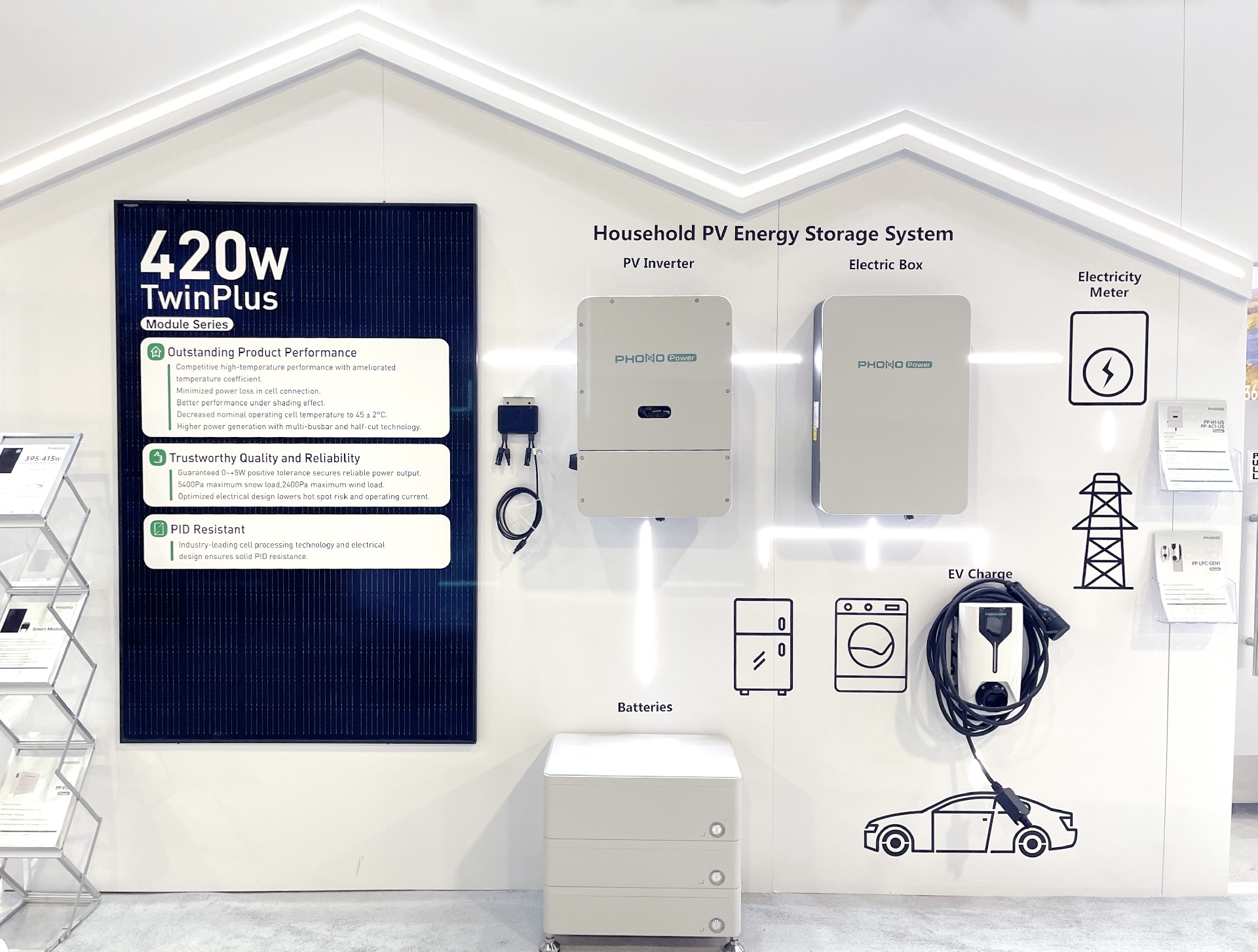 PHONO is committed to promoting sustainable development and has made continuous efforts to reduce carbon footprint and enhance environmental protection, adopting eco-friendly materials as well as energy-efficient practices in the production process. Based on this, PHONO provides the most competitive one-stop local manufacturing solution, including engineering, finance, technology, operation management, and other services that cover the entire industrial chain for ingot pulling, slicing, and the manufacuturing of cells and modules. PHONO deeply integrates the upstream and downstream supply chain and the industrial chain to improve quality, efficiency, and sustainability throughout the entire value chain.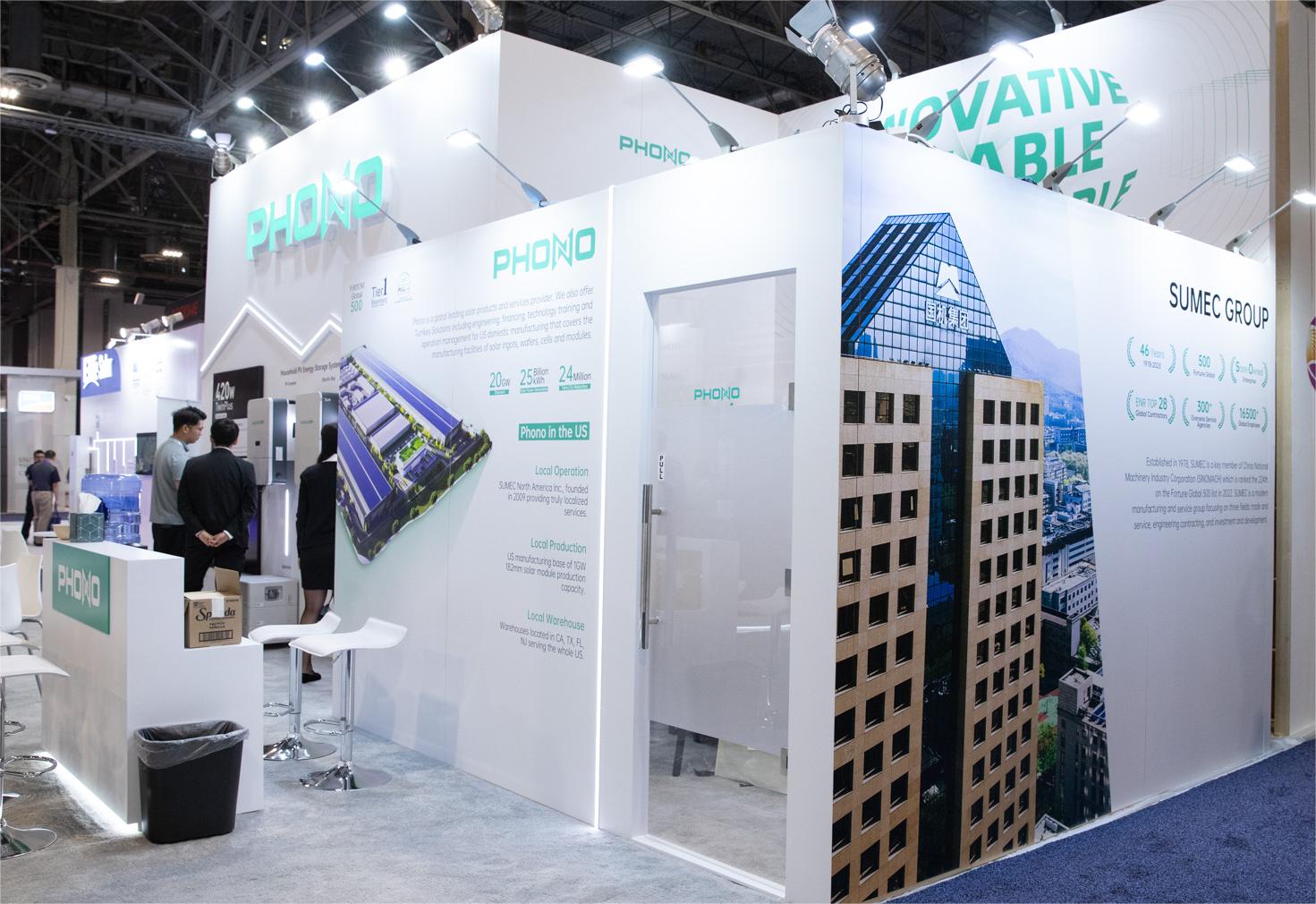 Since PHONO was established 15 years ago, it has always been committed to providing users with more reliable and affordable solar products and services, interpreting the brand value with continuous technological innovation and practical actions.

In RE+, PHONO also set up a special photo check-in wall at the booth to celebrate its 15th anniversary. Many friends were attracted to the booth to participate in this special event and they fully recognized the products and quality over the years. PHONO US team took the valuable chance to meet with many professionals, industry leaders, and company representatives from all over the world and had in-depth exchanges to share industry insights and experiences. The team also offered consultation and cooperation opportunities for all parties to jointly promote the development of renewable energy.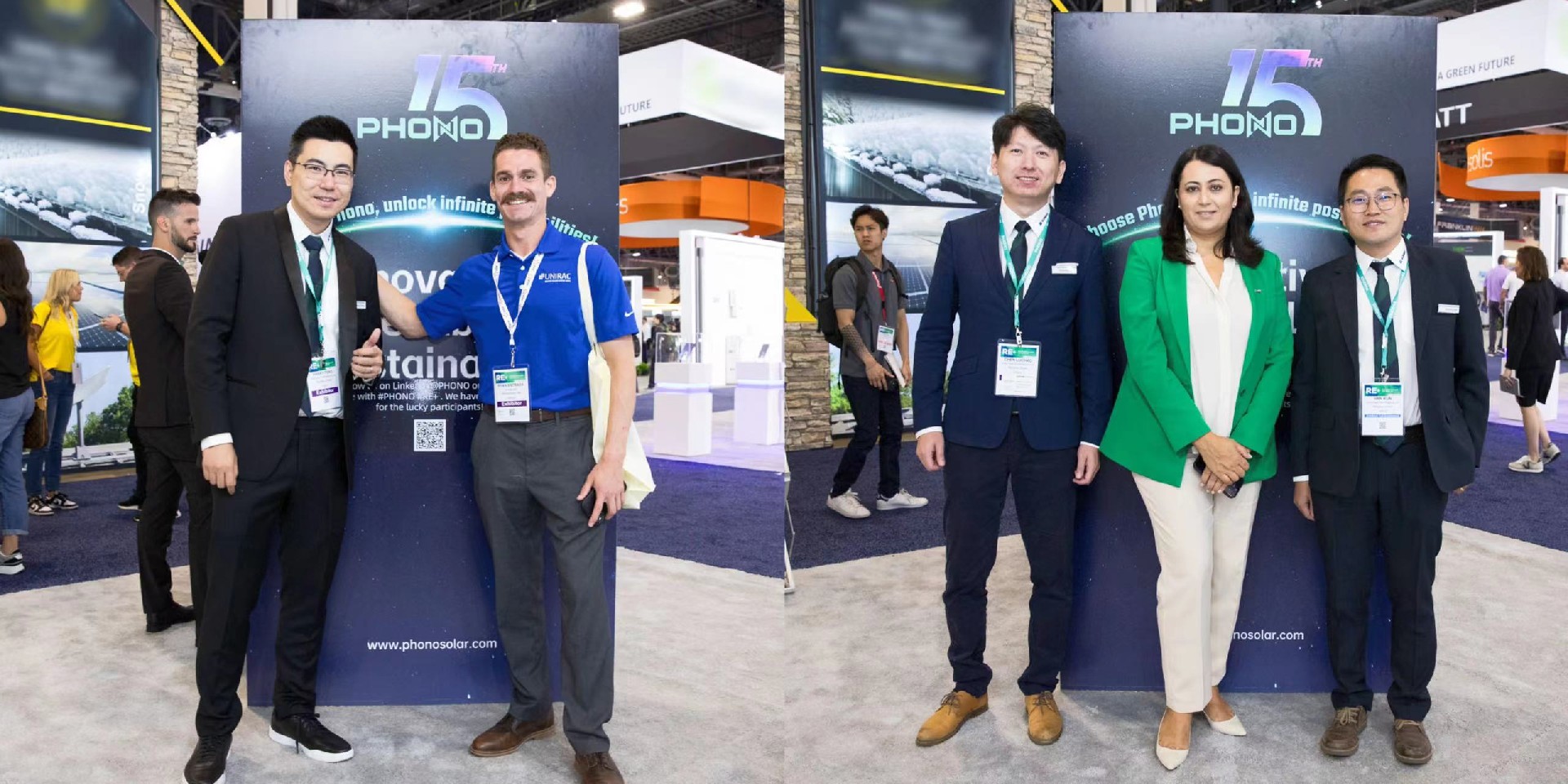 Adhering to the brand concept of "Innovative, Reliable, and Sustainable", in the future, PHONO will continue to make positive contributions to the clean energy transition and the global net-zero goal. We look forward to promoting the development of solar industry and empowering a better future with clean energy with partners from different sectors.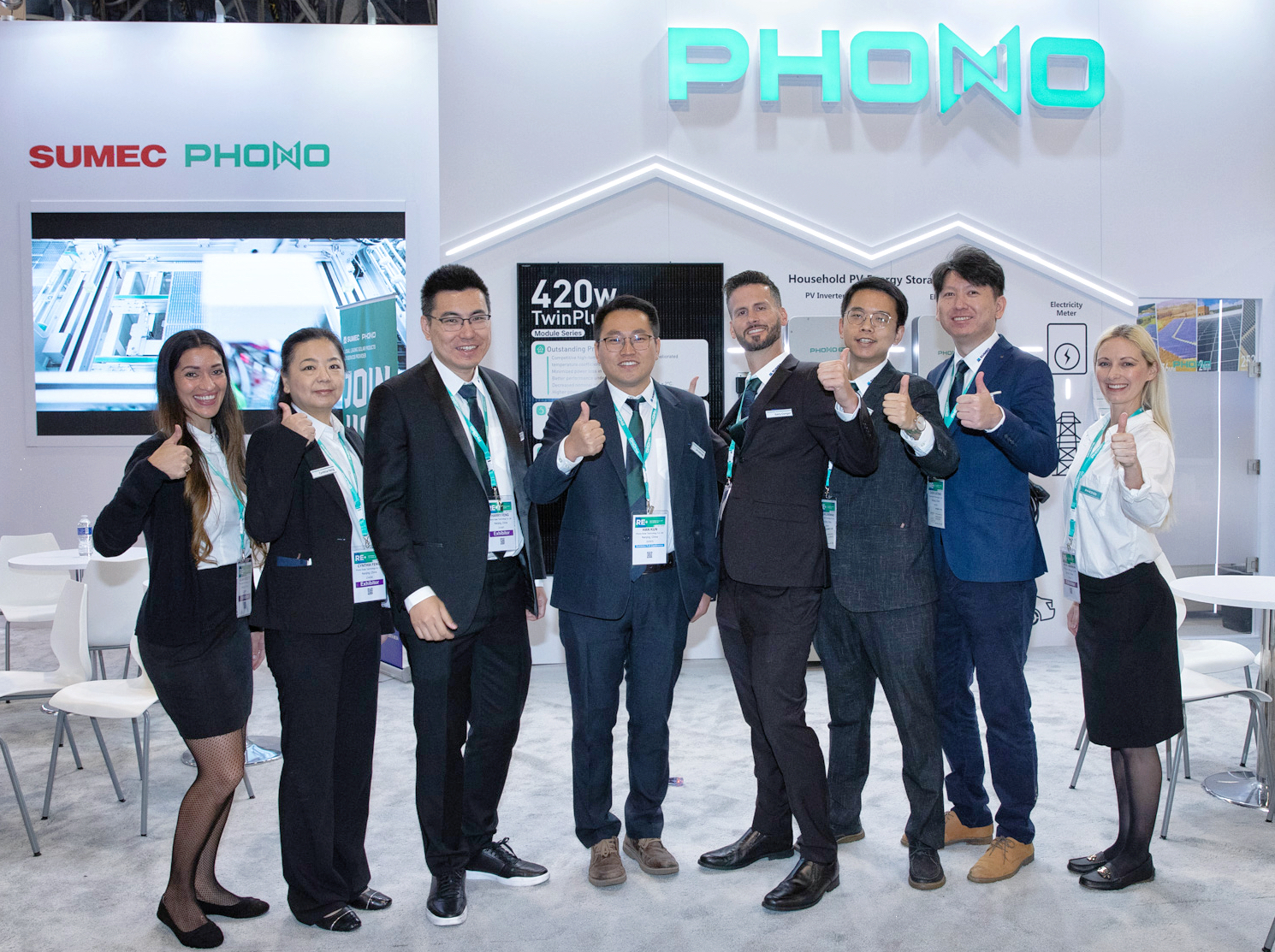 Previous
Next