PRESS RELEASE
PHONO Attend ZeroEmission Mediterranean to Innovate Green Energy and Promote Low-carbon Development
2023-10-11
On October 10-12, PHONO with our star photovoltaic products participated in the ZeroEmission Mediterranean 2023 at the Rome Exhibition Center. As a global leading solar products and services provider, PHONO has been committed to reducing carbon emissions, actively innovating in environmental protection, and promoting sustainable development. The purpose of this exhibition is to showcase PHONO's latest achievements in low-carbon technology and renewable energy, and to discuss the future and development of carbon neutrality with global peers.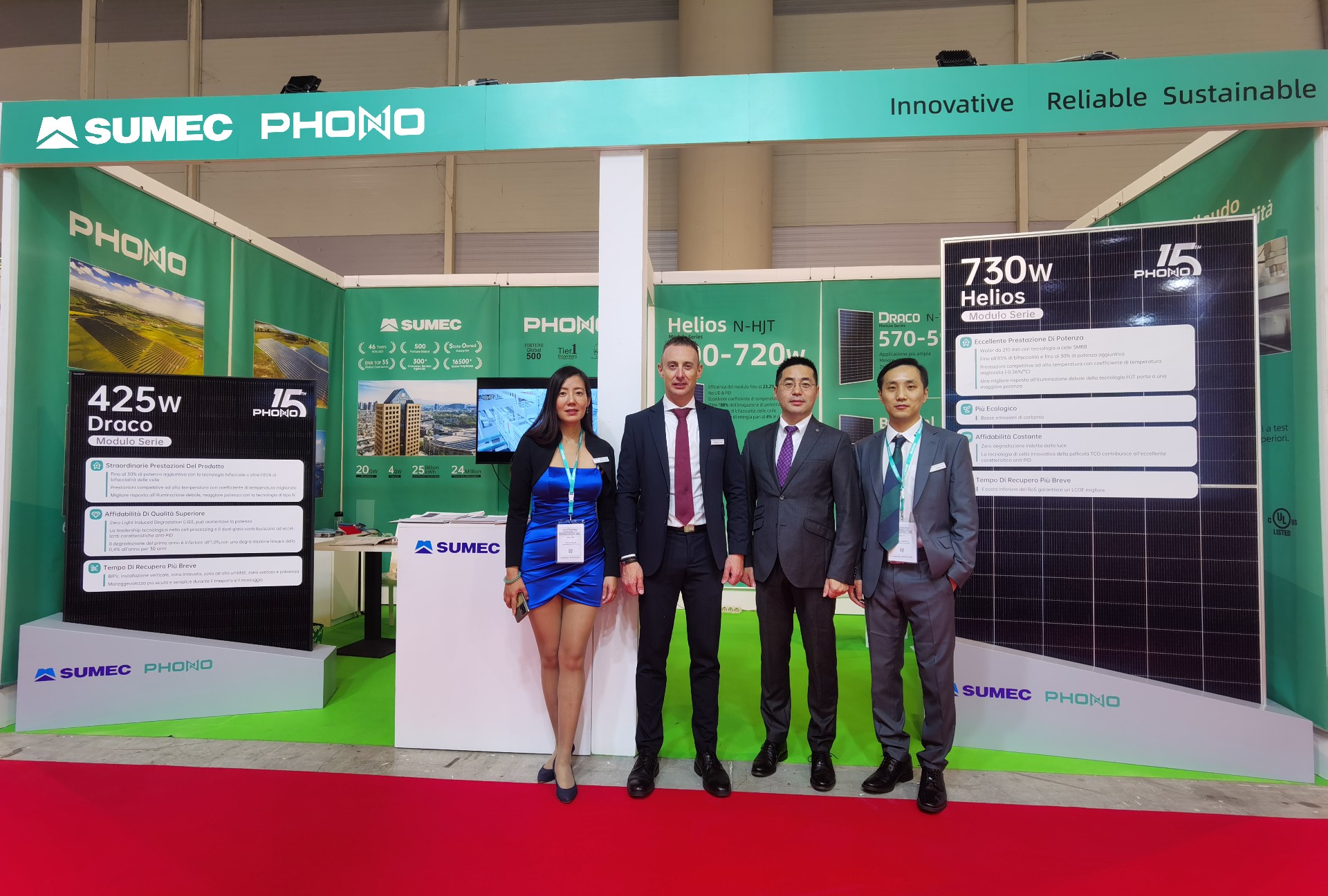 The ZeroEmission Mediterranean 2023 is focused on production technology and innovative solutions in the field of renewable energy, catering to the entire production and distribution chain of the zero-emission electricity industry. Since 1999, the exhibition has been dedicated to providing production technology and innovative solutions to countries in southern Europe and the Mediterranean. Meanwhile, in the context of the global dual carbon goals, the Italian market will also experience significant growth in 2023, especially under the Superbonus and other policy conditions such as simplifying the photovoltaic approval process and reducing taxes, the potential of Italian industry, commerce and ground power stations will be further stimulated.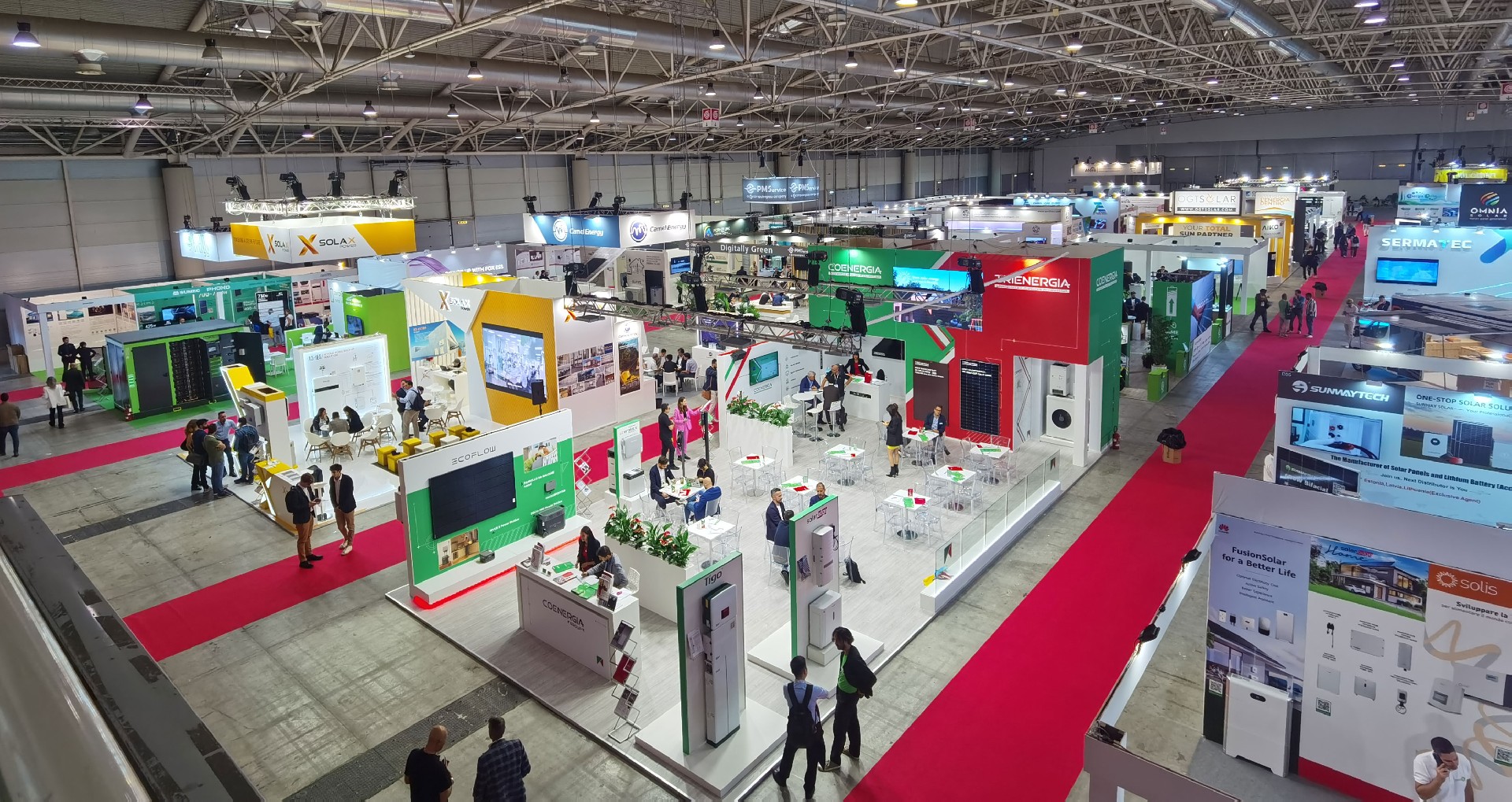 During the exhibition, PHONO brought a new brand image to the Italian region and showcased the latest N-HJT module Helios series and N-TOPCon module Draco series, respectively corresponding to ground photovoltaic systems and distributed market demand. The 132-type HJT module Helios series with large-sized cells of 210mm, combined with the PIB & Raybo film packaging process, can reach a maximum power of 730W. And its zero LID and anti-PID characteristics ensure the stability and reliability of the Helios module, ensuring a 30-year power generation efficiency of 88%+. Another popular product is the N-TOPCon module Draco series of 108-type with pure black cells. It has a highly consistent all black aesthetic appearance and lightweight characteristics. The excellent power generation efficiency, high standard product design, and strict material selection of this module series can highly adapt to the growing demand of the rooftop photovoltaic market in Italy and even Europe.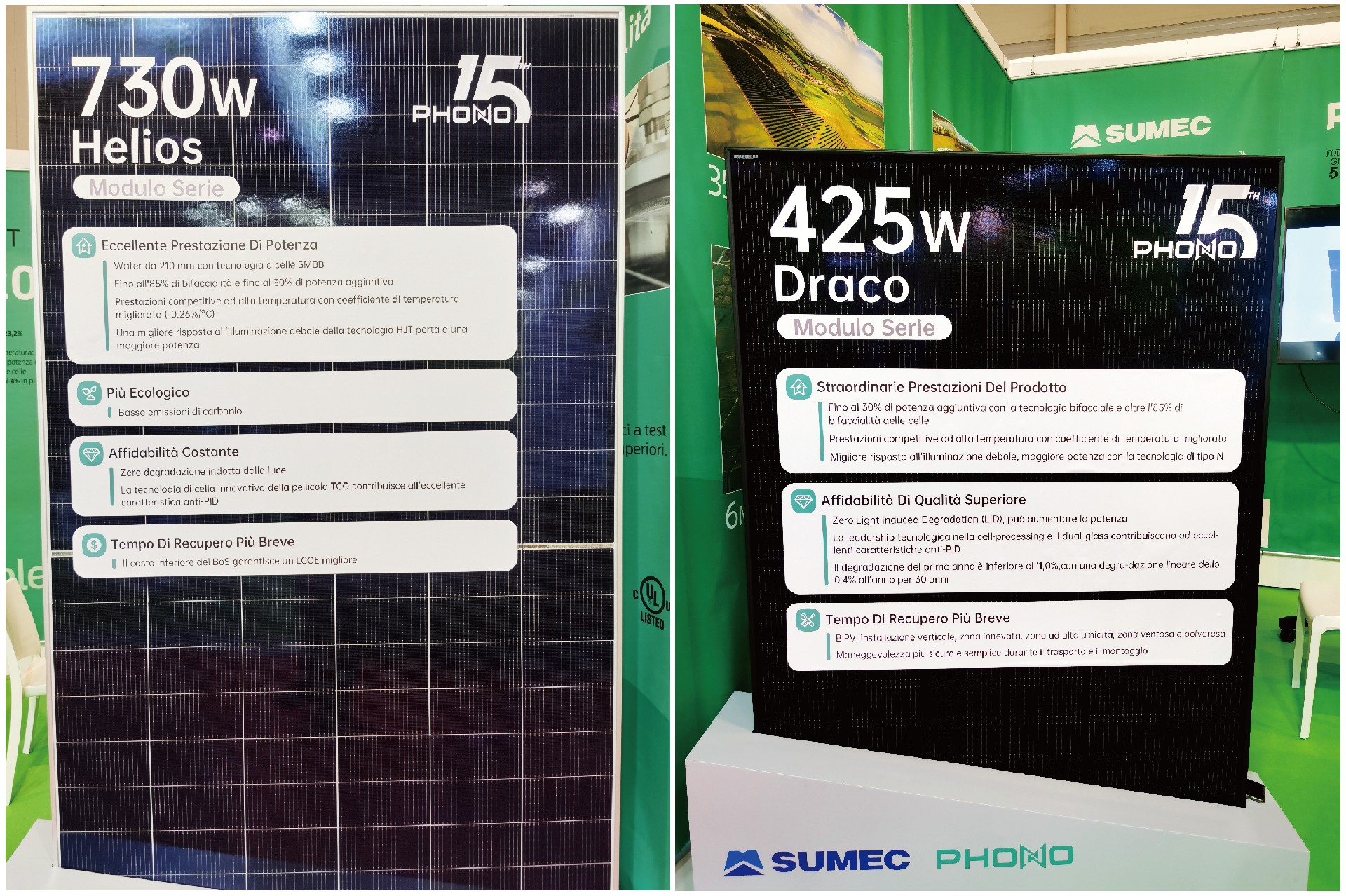 In addition, PHONO offers Turnkey Solution, including engineering, finance, technology training, operation management, etc., covers the entire production and manufacturing base for ingots, wafer cells and module, deepens the all-value chain process of the supply chain and industry chain, and integrate product-based, lean, automated, and intelligent services, and assists users in quickly arranging, improving quality and efficiency.
Italy is a beautiful Mediterranean country with a long history and splendid culture. Just like Italians' love and pursuit of art, PHONO firmly believes in the power of technology and adheres to the brand concept of "Innovative, Reliable, and Sustainable". PHONO's pursuit of contributing to global sustainable development has never stopped. Participating in the ZeroEmission Mediterranean is an excellent opportunity for PHONO to showcase its strength and innovation in the field of low-carbon technology. We hope to share experiences, explore cooperation, and reach more consensus with Italian and European partners to jointly meet the challenges posed by climate change and environmental protection. PHONO looks forward to providing more inspiration and motivation for promoting low-carbon concepts, accelerating the transformation of clean energy, and promoting sustainable development, striving to build a greener and more sustainable future!


Previous
Next